ECO CITY BIN Compact Battery Powered Street Orderly Barrow-bin
The all new battery powered Eco City Bin is designed to make litter picking in busy built up and busy pedestrian areas easier than ever before.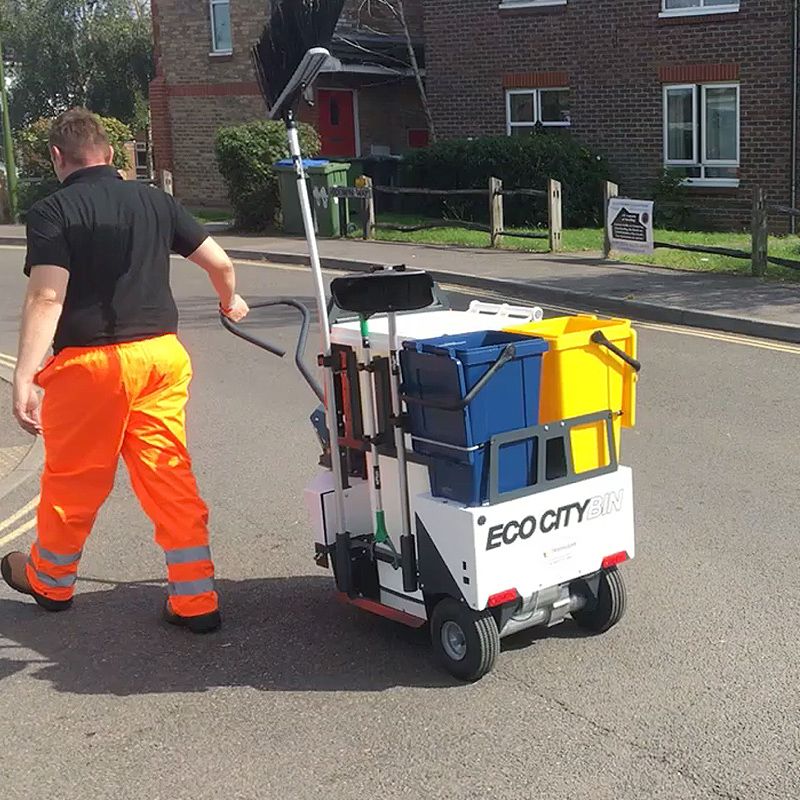 The all new ECO CITY BIN is designed to make litter picking in busy built up and pedestrian areas easier than ever before!
The Eco City Bin is a battery propelled orderly barrow with an 8 hr run time. Designed with ergonomics in mind there is room for everything an operator would need for a full shift. There is a 120ltr wheelie bin and two 30ltr bins for curb-side recycling. Storage for a broom, litter picker and shovel. There is even a lockable storage box for any incidentals that the operator wishes to take out with them.
Careful attention has be paid to the type of environment the Eco City Picker will be used in and as such the unit comes as standard with an operating LED light, horn for attracting attention, permanent flashing LED's and reverse beeper. Simply bush the lever down to move forward and up to go backwards.
No pushing or pulling required. With the hydrostatic drive the unit can't be moved when not in use.
If even more innovation is required the Eco City Bin can also be fitted with our patented Follow.Me option.
This is an operator recognition system which allows the Eco City bin to simply follow the operator without them having to touch the unit.
The Eco City Bin is the perfect equipment for the city maintenance because:
being light and maneuverable so the operator can get the street orderly barrow into areas where access is a problem
it's quiet and eco-friendly
it's a rugged product that can withstand all the wear and tear of daily usage
it requires low maintenance
See the ECO CITY BIN in action here on the streets of Sussex.
Call 01403 273 444 and arrange a free demonstration
Discover more
MACHINE TECHNICAL SPECIFICATIONS
SupplyBattery 24 V
TractionElectricTotal power450 W
Battery charger5 A/h
Max battery capacity (DIN)28 (Lithium) Ah/5
Maximum slope20 %
Maximum speed6 km/h
Steering range1500 mm
Brake Electric
Noise level 45 dB(A)
Dimensions (LxWxH)1240x630x1400 mm
Weight without batteries 90 Kg
Packaging (LxWxH)1200x800x1590 mm
WHAT NEXT? ARRANGE A FREE ON-SITE SURVEY & DEMO
Arrange a on-site survey and demonstration
The next step is to contact our sales team who will arrange a mutually convenient time for a demonstration on your site and application area you would like to test it on. 
Call 01403 273 444 to speak to one of our sales team 
FINANCE & LEASING OPTIONS ON THIS MACHINE
Manage your business through finance and leasing option.
Trafalgar Cleaning Equipment offers flexible leasing options for financing products. Get in touch and we will advise you free of charge and without obligation. We are your reliable partner when it comes to leasing that is individually tailored to suit your needs. 
Good reasons for lease financing:
Invest without using company capital
You do not have to use any capital that you need for your own resources to purchase your new equipment. This gives you more room for manoeuvre in your business.
Earn more by leasing
Generate profit without using company capital. There's no better way to make money. What are you waiting for?
No need to go to your bank
Invest without having to commit to a bank loan. Your securities will remain available for other financing projects*.
Safe and manageable
Lease instalments remain the same for the entire term of the lease. This gives you a clear planning structure.
Call 01403 273 444 to speak to one of our sales team
WARRANTY SERVICING & MAITENANCE
All of the machines we sell come with a warranty, please ask your salesman for more details. We also offer service contracts on all of the machines we sell, please discuss this with your salesman at the time of purchase for more details and prices. Maintenance of your machine will be imperative to the machines longevity in service, so regular maintenance and servicing of your machine is always recommended.
ON-SITE INSTALLATION & TRAINING
All of the machines we sell are pre-assembled, tested, and pre-run by our engineers before leaving the workshop for dispatch or delivery by your salesman. We do this so that when you receive your machine it is ready to go. Some of our machines do require onsite training and this will be explained and arranged if required at the time of sale by your salesman who will provide you with the required training to operate your new machine.


THIS MACHINE IS AVAILABLE FOR SHORT TERM or LONG TERM HIRE

 Speak to our experienced sales team today. Call 01403 273 444
BOOK A FREE ON-SITE SURVEY AND MACHINE DEMONSTRATION