Kärcher Municipal Street Sweepers
Powerful petrol or diesel engines and a 1,000-litre water tank guarantee at least one hour of full high-pressure performance for demanding cleaning tasks. Ideal for use on construction sites, in the municipal sector or for hire to other professional users. Variably configurable machine, extremely robust and very easy to operate.
Municipal sweepers perfect for all surfaces
---
---
Clever and Convenient Sweeping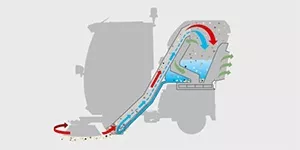 High-Performace Suction System
A straight 150mm wide suction tube, in conjuntion with the water circulation system, helps to contain dust and enables any blockages to be removed quickly.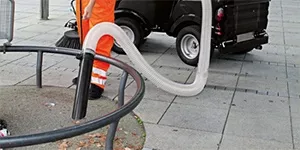 Wander Hose
The 4.5m flexible suction hose allows light waste to be easily vacuumed away where the machine may not be able to reach.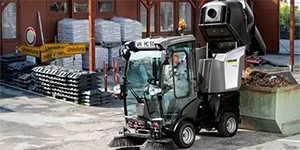 Convenient Hopper Emptying
Easily and fully empty the contents of the sweeper's hopper directly into a container or composting area from the comfort and safety of the driver's seat thanks to the 145cm hydraulic lift.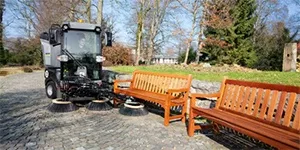 Third Side Brush
Extend the sweeping reach to 2 metres and effortlessly remove dirt and debris from gutters, kerb sides and under benches.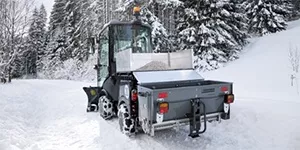 Spreading Systems
Keep paths and roads safe from slip and skid hazards with the disc-spreader (larger areas) or roller distributor (pathways) attachments.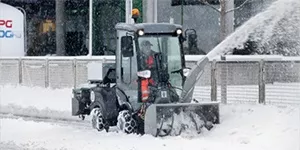 Snow Thrower
With working widths of 1-1.6m and capable of clearing high and hard snow, the snow thrower attachments can move up to 120 l / min with an adjustable throw distance of up to 25m.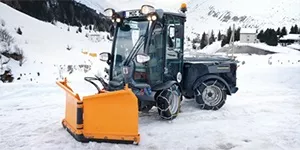 Snow Plough
Whether clearing footpaths or removing snow from a car park – with the Vario snow plough, the driver can react individually and flexibly to snow volumes and the locality.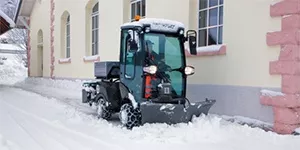 Snow Chains
Designed to keep you moving even in the harshest conditions, snow chains ensure better traction in snow and slush.
---
Municipal Implement Carriers: More than just a sweeper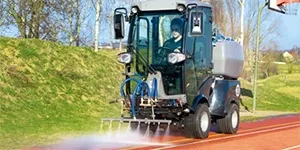 Street Washing System
Effectively wash down and clean sports grounds and small parks with the water spray attachment. It can also be used for spraying brine in winter months.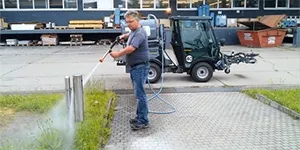 On-Board Pressure Washer 
Ideal for cleaning machines and containers or spot cleaning of bus stops and bins - a perfect partner with the washing or watering system.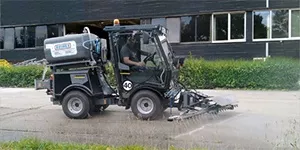 Scrubdeck
Scrub and sweep in one - the scrubdeck is the ideal match for maintenance and basic cleaning of large areas.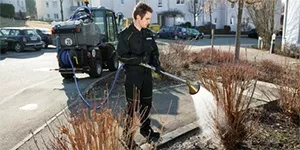 Irrigation and Watering System
Keep your flowers vibrant and green spaces healthy - easily and conveniently. The spray lance is available with the sprinkler and point jet attachments.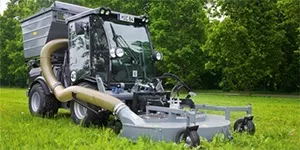 Mower (with Container)
Quickly and easily change from sweeping to mowing mode and keep on top of your green spaces. The cuttings are collected and stored in the hopper leaving nothing behind but great results.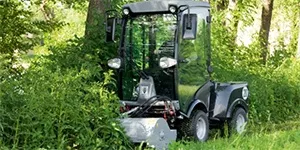 Flail Mower 
Remove overgrown roadside greenery with ease. In addition the standard flail mower, the extended mower can be used on both sides with a reach of up to 3.5 metres.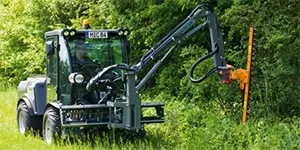 Hedge Shears
Mounted on the extension arm, attachments including hedge shears, flail mower and pruning shears easily control and meaintain the appearance of your trees, hedges and brushes.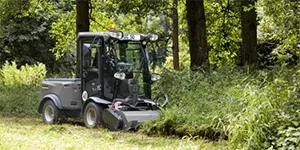 Large Flail Mower
Easily and cleanly cut through high grass and uncontrolled growth thhanks to the cup blade and high power of the axial piston hydraulic motor.
Request a free demo of one of our machines. Please fill out the form and we'll get back to you as soon as possible.

1-3 Working Days Delivery
on all orders 

Call 01403 273 444
for Expert Advice and Support