DiBO JMB-S/S+ High Pressure Trailer
The DiBO JMB-S is an ultra-compact mobile hot water high pressure cleaner on a trailer with attractive appearance and equipped inside with the latest and greenest technologies.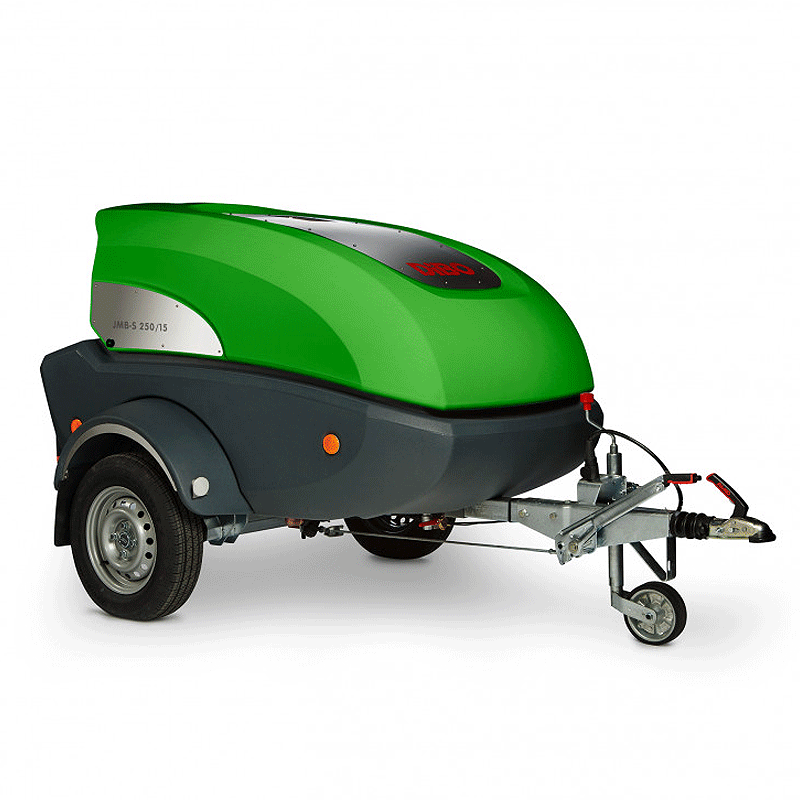 The DiBO JMB-S/S+ is quality and power harmoniously united in a high pressure trailer.
The DiBO JMB-S is an ultra-compact mobile hot water high pressure cleaner on a trailer with attractive appearance and equipped inside with the latest and greenest technologies. With its own power source and independent operation, also for use in places where no electricity supply is available.
With the option of cleaning with cold or hot water at high pressure, this high pressure cleaner is suitable for a wide variety of cleaning work. A low center of gravity in the middle at the axle ensures optimum load distribution, that together with the weight of <750 kg results in a highly comfortable drive. No special driver's license is required to pull this trailer.
Industrial diesel motor selected per machine type depending on the radial high pressure pump.
70 kW DiBO GreenBoiler offering 18% fuel savings.
Intercooling system with heat recovery from the motor used to pre-heat the water through a heat-exchanger. The result is additional fuel savings of 15%
High pressure trailer with greatly improved ease of use.
To make your high-pressure cleaning even easier, this high pressure trailer is equipped with intuitive digital operation by joystick. The display guides the user through the user program step by step. There is the continuous display of the status of the machine while cleaning with this high pressure cleaner. Operating pressure, temperature, fuel level (*) and level in the water tank (*) are just a few important parameters.
Besides the standard version, this JMB-S high pressure trailer is also available as a full option "+" version.
The JMB-S+ version includes:
New, advanced track & trace system
Electronic level indication for fuel and water tank
Electronic gas regulation with automatic speed control
Real-Time Monitoring System (RTMS) with which the owner can see the exact status of the machine on a smartphone, computer or tablet.
(*) only with "+" version

DiBO shown in video: JMB-M/M+ Twin Lance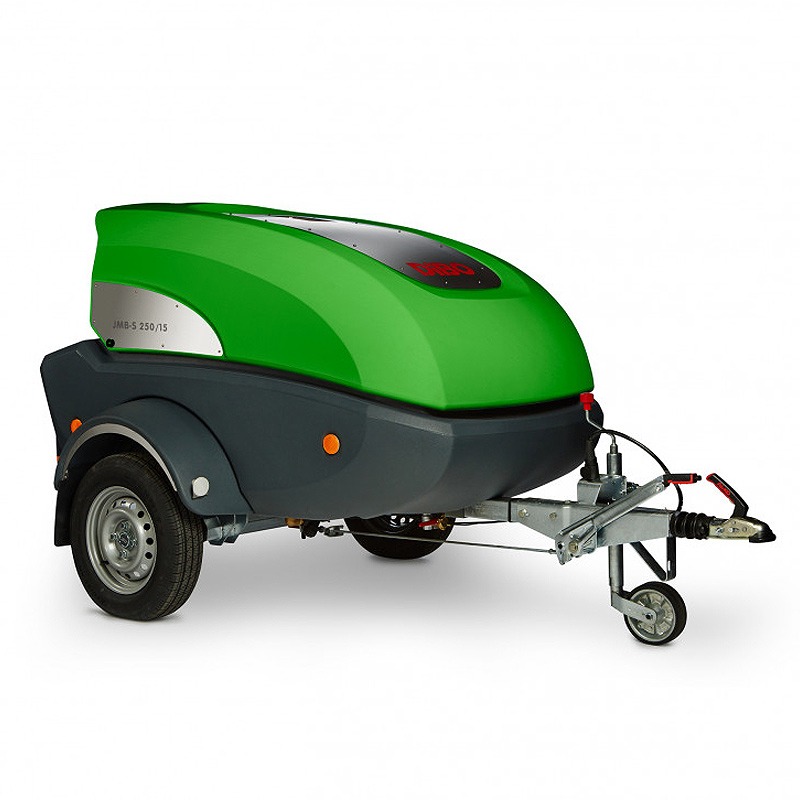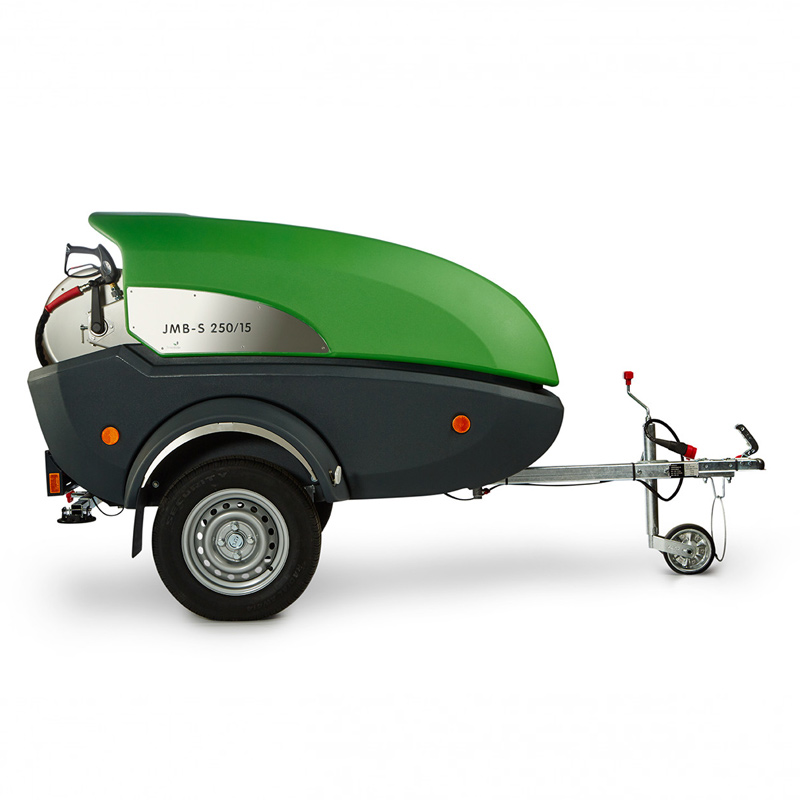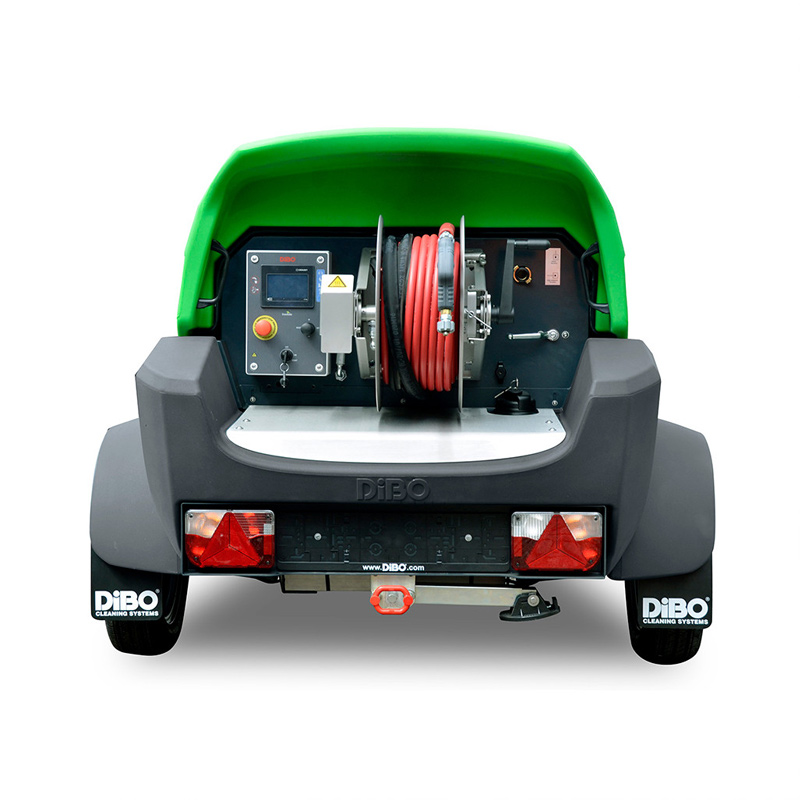 MODEL TYPES
Types
| Code | Description | bar | l/h | ° C | kW | kW | l | l | mm | kg | - |
| --- | --- | --- | --- | --- | --- | --- | --- | --- | --- | --- | --- |
| 1.128.360 | JMB-S 200/18 T | 200 | 1080 | 30 - 120 | 11,7 (diesel) | 70 | 50 | 200 | 2665x1559x1354 | 720 | 055 |
| 1.128.361 | JMB-S+ 200/18 T | 200 | 1080 | 30-120 | 11,7 (diesel) | 70 | 50 | 200 | 2665x1559x1354 | 720 | 055 |
| 1.128.510 | JMB-S 250/15 T | 250 | 900 | 30 - 120 | 11,7 (diesel) | 70 | 50 | 200 | 2665x1559x1354 | 720 | 040 |
| 1.128.511 | JMB-S+ 250/15 T | 250 | 900 | 30 - 120 | 11,7 (diesel) | 70 | 50 | 200 | 2665x1559x1354 | 720 | 040 |
PRODUCT SPECIFICATIONS
New operating panel with digital display and joystick:

Everything visible at a glance. Easy to adjust with a handy joystick and to operate with gloves.
Electronic setting of the temperature (exact & constant)
Electronic control with pressure gauge, hour counter, maintenance information, error messages and device functions that facilitate maintenance.
The digital display indicates continuously the status of the machine and alarm.

Modern & aerodynamic design for less air resistance
UV-resistant double-walled housing in rotation moulded polyethylene >>> sound insulated: ˂ 85 dB
All functionality needed for the activities are brought together on the rear of the machine - everything within hand reach
Trailer version is built on a galvanized trailer fitted with support and swivel wheel
Ultra-compact and lightweight <750 kg (no special driver's license required)
Stainless steel DiBO high pressure hose reel
TECHNICAL SPECIFICATIONS
Technical specifications
High-tech heating system 70 kW GreenBoiler for a greater efficiency > 92% 18% fuel saving Low CO2 emission Low maintenance cost
70 kW GreenBoiler + 20 kW Intercooling = 90 kW heating capacity
Industrial diesel engine with preheating of the water in the tank via heat exchanger. This saves up 15 % fuel for the burner
Total fuel savings of 33% with the GreenBoiler (18%) and heat-exchanger (15%) combination
Radial high pressure pump with 3 ceramic plungers and stainless steel valves
Boiler with independent motor fitted and fuel valve with electronic ignition
12 V operating voltage for electronic control and for the burner
Washable water filter
Run dry protection on the water and fuel tank
Automatical stop system after 30 minutes of inactivity
Automatic pre-glowing
200 l built-in water tank (only for "T" "TG" and "S" version)
Pressure reduction up to 10 bar with sealed gun
Pressure and flow regulation via speed engine governor (manually (standard) or electronically ("+" version))
Digital control and reporting on display of :

motor functions
flame monitoring
water level (*)
fuel level (*)

Automatic speed regulation, idling after 30s (*)
Track & Trace system (*), including information on

Working hours burner & machine
Errors visible from a distance
Location of the machine
Location history
Error messages history

Note: (*) = only at "+"-version
WHAT NEXT? ARRANGE A FREE ON-SITE SURVEY & DEMO
Arrange a on-site survey and demonstration
The next step is to contact our sales team who will arrange a mutually convenient time for a demonstration on your site and application area you would like to test it on. 
Call 01403 273 444 to speak to a DiBO expert.
Or request a free demo of one of our machines. Please fill out the form and we'll get back to you as soon as possible.
FINANCE & LEASING OPTIONS ON THIS MACHINE
Manage your business through finance and leasing option.
Trafalgar Cleaning Equipment offers flexible leasing options for financing products. Get in touch and we will advise you free of charge and without obligation. We are your reliable partner when it comes to leasing that is individually tailored to suit your needs. 
Good reasons for lease financing:
Invest without using company capital
You do not have to use any capital that you need for your own resources to purchase your new equipment. This gives you more room for manoeuvre in your business.
Earn more by leasing
Generate profit without using company capital. There's no better way to make money. What are you waiting for?
No need to go to your bank
Invest without having to commit to a bank loan. Your securities will remain available for other financing projects*.
Safe and manageable
Lease instalments remain the same for the entire term of the lease. This gives you a clear planning structure.
Call 01403 273 444 to speak to one of our sales team
WARRANTY SERVICING & MAITENANCE
All of the machines we sell come with a warranty, please ask your salesman for more details. We also offer service contracts on all of the machines we sell, please discuss this with your salesman at the time of purchase for more details and prices. Maintenance of your machine will be imperative to the machines longevity in service, so regular maintenance and servicing of your machine is always recommended.
ON-SITE INSTALLATION & TRAINING
All of the machines we sell are pre-assembled, tested, and pre-run by our engineers before leaving the workshop for dispatch or delivery by your salesman. We do this so that when you receive your machine it is ready to go. Some of our machines do require onsite training and this will be explained and arranged if required at the time of sale by your salesman who will provide you with the required training to operate your new machine.

FREE UK Mainland Delivery 
on all orders 

Call 01403 273 444
for Expert Advice and Support