TomCat Sport Disc Scrubber Drier
Available in twin or single brush configuration the sport packs a punch, with powerful motors & class leading 5 levels of electronic brush pressure.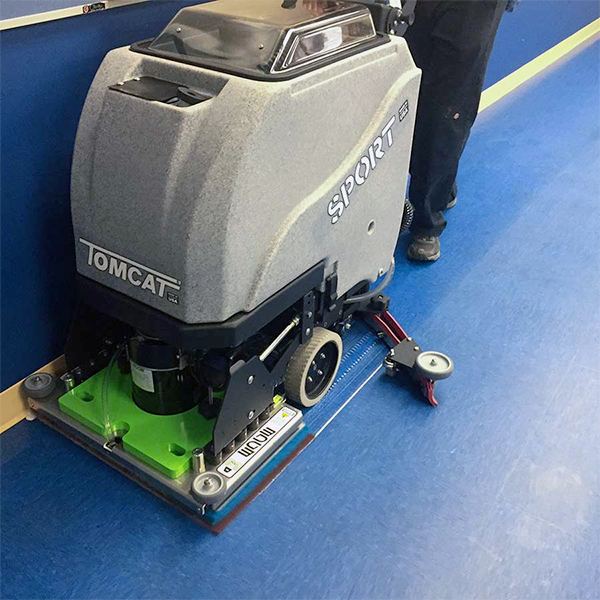 The TomCat SPORT is a medium sized pedestrian scrubber dryer, battery powered, with a range of options suitable for different cleaning needs. 
In addition to the familiar disk and cylinder options, the TomCat EDGE oscillating scrubbers utilise latest technologies for outstanding scrubbing / stripping of all types of floor, using less water and without using chemicals. The rectangular design of the TomCat Edge also enables scrubbing right up to edges and in tight corners.
Manufactured with a thick steel frame and powder coated steel finish, with steel guards and polyurethane rollers prevent the machine from marking walls.
This machine is designed to be easy to use, with a high performance motor and strong down pressure for excellent cleaning and has an easy to use control panel. Squeegee adjustment is straightforward too with the quick change squeegee latch.
Suitable for indoor floor cleaning in hotels, schools, restaurants, retail outlets, airports, warehouses etc.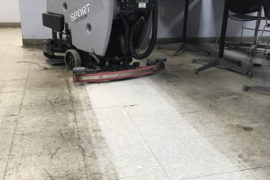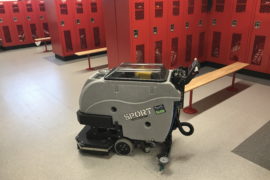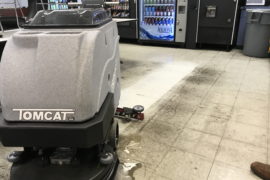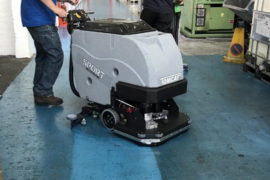 Call 01403 273 444 and arrange a free demonstration
Discover more
MACHINE TECHNICAL SPECIFICATIONS
| Features: | Disk | Cylindrical | EDGE |
| --- | --- | --- | --- |
| Scrubbing width (mm) | 430 / 510 / 660 | 640 | 510 / 700 |
| Scrub system | Disk | Cylinder | Oscillating EDGE |
| Scrub speed (rpm) | 200 / 270 | 750 | – |
| Productivity (sq Km) theoretical / practical | 2.5 / 1.1 | 2.5 / 1.1 | 2.5 / 1.1 |
| Scrub pressure max (kg) | 227 | 227 | 227 |
| Tank capacity solution / recovery (l) | 38/38 | 38/38 | 38/38 |
| Run time – up to (hrs) | 2.5 | 2.5 | 2.5 |
| Dimensions L x W x H (mm) | 1140x530x990 | 1140x530x990 | 1140x530x990 |
| Weight (kg) with batteries | 186-209 | 186-209 | 186-209 |
| Weight (kg) w/o batteries | 126-149 | 126-149 | 126-149 |
WHAT NEXT? ARRANGE A FREE ON-SITE SURVEY & DEMO
Arrange a on-site survey and demonstration
The next step is to contact our sales team who are all trained on the Eco City Sweeper and they will arrange a mutually convenient time for a demonstration on your site and application area you would like to test it on. 
Call 01403 273 444 to speak to one of our sales team 
FINANCE & LEASING OPTIONS
Manage your business through finance and leasing option.
Trafalgar Cleaning Equipment offers flexible leasing options for financing products. Get in touch and we will advise you free of charge and without obligation. We are your reliable partner when it comes to leasing that is individually tailored to suit your needs. 
Good reasons for lease financing:
Invest without using company capital
You do not have to use any capital that you need for your own resources to purchase your new equipment. This gives you more room for manoeuvre in your business.
Earn more by leasing
Generate profit without using company capital. There's no better way to make money. What are you waiting for?
No need to go to your bank
Invest without having to commit to a bank loan. Your securities will remain available for other financing projects*.
Safe and manageable
Lease instalments remain the same for the entire term of the lease. This gives you a clear planning structure.
Call 01403 273 444 to speak to one of our sales team
ON-SITE INSTALLATION & TRAINING
All of the machines we sell come with a warranty, please ask your salesman for more details. We also offer service contracts on all of the machines we sell, please discuss this with your salesman at the time of purchase for more details and prices. Maintenance of your machine will be imperative to the machines longevity in service, so regular maintenance and servicing of your machine is always recommended.
WARRANTY SERVICING & MAITENANCE
All of the machines we sell are pre-assembled, tested, and pre-run by our engineers before leaving the workshop for dispatch or delivery by your salesman. We do this so that when you receive your machine it is ready to go. Some of our machines do require onsite training and this will be explained and arranged if required at the time of sale by your salesman who will provide you with the required training to operate your new machine.
THIS MACHINE IS AVAILABLE FOR SHORT TERM or LONG TERM HIRE

 Speak to our experienced sales team today. Call 01403 273 444
BOOK A FREE ON-SITE SURVEY AND MACHINE DEMONSTRATION

 Book a free site survey and demo today. Or Call 01403 273 444