TomCat Ride-on Sweeper with Baghouse filter
Ride-on Sweeper with a a solid steel chassis, with heavy duty motors & unique "baghouse" filter for dust free sweeping in the harshest of environments.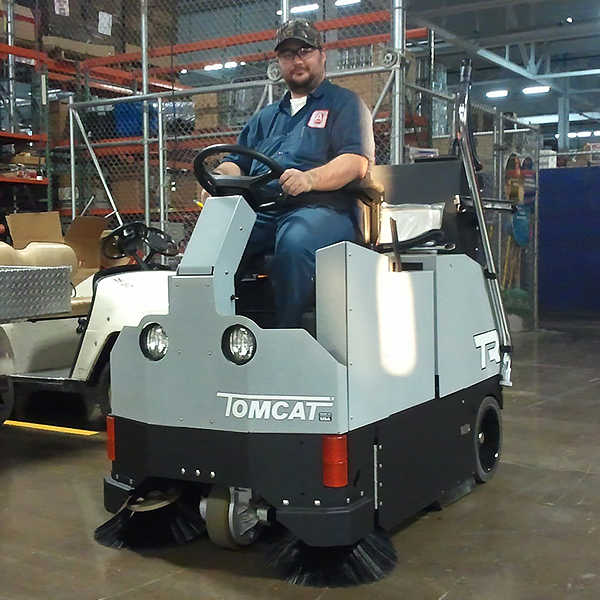 Ride-on sweeper built for dust free sweeping.
The VR comes with twin side brooms for sweeping the edges & a choice of main broom for different floor surfaces, including specialist sports surfaces and carpet. The VR comes with twin headlights, safety beacon and a comfortable high back chair with seat switch for operator safety & comfort. The VR comes standard with twin side brooms sweep for the edges, while a large tubular broom under the machine which sweeps the dust and debris then packs it into the steel hopper. The dust is controlled by a powerful vacuum system which traps it in a polypropylene felt "baghouse" filter. The filter is cleaned by an on-board mechanism, and in most cases will last the life of the machine.
Features
Solid all steel construction
Direct sweeping system
Long lasting dust filter
Powerful drive motor
Simple reliable electronics
Easy to use and maintain
Comfortable for the operator
Powerful complete sweeping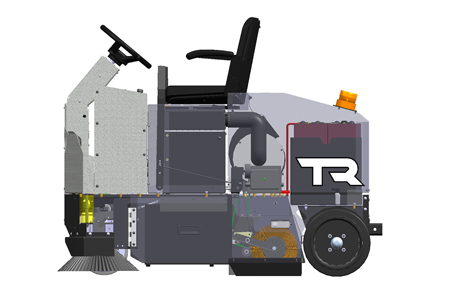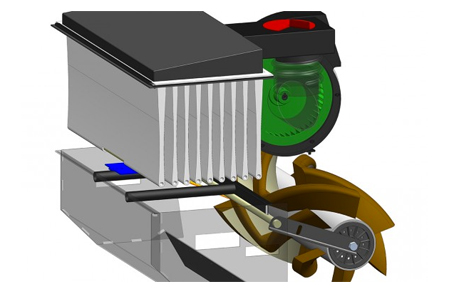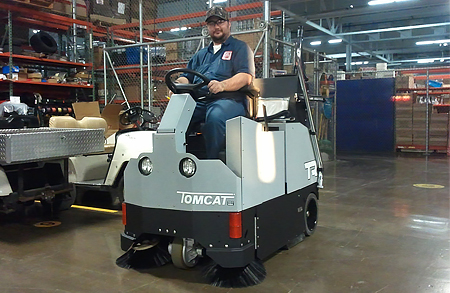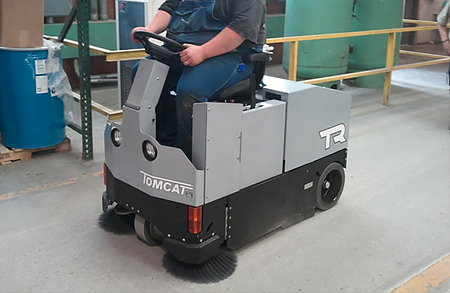 Call 01403 273 444 and arrange a free demonstration
Discover more
MACHINE TECHNICAL SPECIFICATIONS
| | |
| --- | --- |
| Type | Ride-on Sweeper |
| Sweeping width | 120 cm |
| Hopper capacity | 120 ltr |
| Dust filtration | Baghouse filter |
| Filter type | High capacity polyester |
| Drive system | Front wheel 0-7 km/h |
| Power | 4x6v Battery |
| Run time | 3 - 6 hours |
| Construction | All steel |
| Dimensions LxWxH | 162x94x140cm |
| Weight | 612 kg |
WHAT NEXT? ARRANGE A FREE ON-SITE SURVEY & DEMO
Arrange a on-site survey and demonstration
The next step is to contact our sales team who are all trained on the Eco City Sweeper and they will arrange a mutually convenient time for a demonstration on your site and application area you would like to test it on. 
Call 01403 273 444 to speak to one of our sales team 
FINANCE & LEASING OPTIONS
Manage your business through finance and leasing option.
Trafalgar Cleaning Equipment offers flexible leasing options for financing products. Get in touch and we will advise you free of charge and without obligation. We are your reliable partner when it comes to leasing that is individually tailored to suit your needs. 
Good reasons for lease financing:
Invest without using company capital
You do not have to use any capital that you need for your own resources to purchase your new equipment. This gives you more room for manoeuvre in your business.
Earn more by leasing
Generate profit without using company capital. There's no better way to make money. What are you waiting for?
No need to go to your bank
Invest without having to commit to a bank loan. Your securities will remain available for other financing projects*.
Safe and manageable
Lease instalments remain the same for the entire term of the lease. This gives you a clear planning structure.
Call 01403 273 444 to speak to one of our sales team
ON-SITE INSTALLATION & TRAINING
WARRANTY SERVICING & MAITENANCE
THIS MACHINE IS AVAILABLE FOR SHORT TERM or LONG TERM HIRE

 Speak to our experienced sales team today. Call 01403 273 444
BOOK A FREE ON-SITE SURVEY AND MACHINE DEMONSTRATION

 Book a free site survey and demo today. Or Call 01403 273 444