TomCat CARBON EDGE Scrubber Dryer
The TomCat CARBON EDGE scrubber dryer is equipped with our unique rectangular EDGE scrub deck.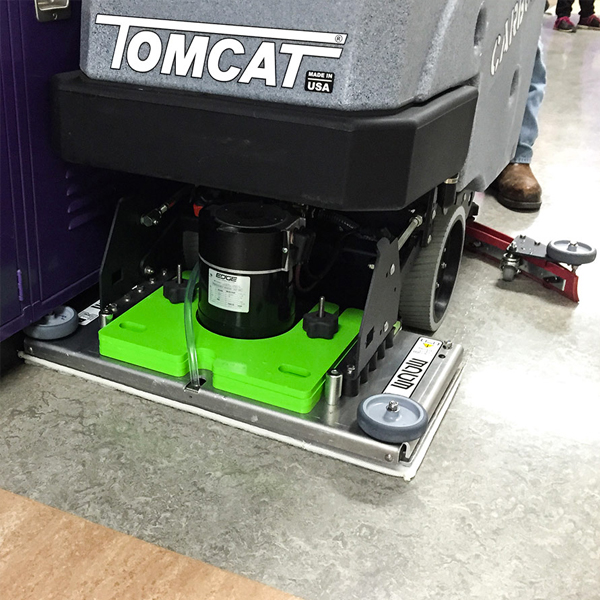 The TomCat CARBON EDGE scrubber dryer is equipped with our unique rectangular EDGE scrub deck 
The TomCat EDGE system works with an oscillating plate and a range of pads which clean up to the edge and into the corners, using up to 70% less water & chemical. If required the CARBON can be used to remove build ups of old floor polish without the use of harmful chemicals, increasing operator productivity and reducing the impact on the environment. Renovating epoxy painted floors, polishing natural stone & concrete floors, deep cleaning ceramic floors and even grout are all simple tasks with the innovative tools available for the EDGE system.
Features
Unique innovative technology
Chemical free stripping
Cleans most hard floors
Clean to the edge and into the corners
Uses up to 70% less water and chemicals
Durable and simple to use
Large range of pads & special tools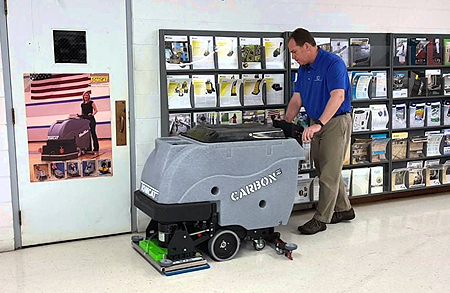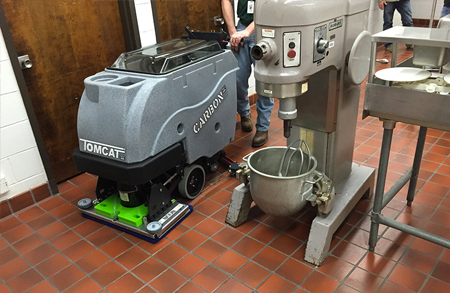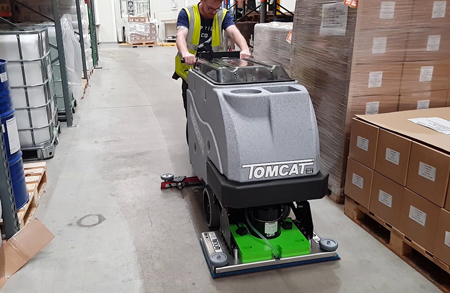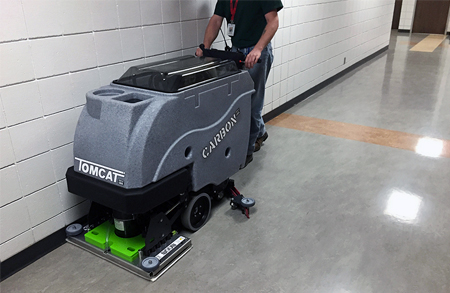 Call 01403 273 444 and arrange a free demonstration
Discover more
MACHINE TECHNICAL SPECIFICATIONS
| | |
| --- | --- |
| Type | Scrubber Drier with EDGE |
| Scrub width | 61cm/71cm |
| Scrub system | Oscillating EDGE technology |
| RPM | 2500-2900 |
| Brush pressure | 0-68 kg adjustable |
| Water capacity | 79 liter clean/recovery |
| Vacuum motor | 1x1 hp |
| Traction motor | 0,75 pk, 0-6,4 km/h selaed |
| Power | 24v 4 X 6v |
| Run time | 2 - 4 hours |
| Construction | Steel/impact resistant plastic |
| Dimensions LxWxH | 132 x 55 x 102cm |
| Weight | 306 kg |
MACHINE OPTIONS
| | |
| --- | --- |
| 170-009 | HD Frame with 225ah batteries and 25ah charger |
| 170-011E | Sealed AGM 215ah batteries & 25ah charger |
WHAT NEXT? ARRANGE A FREE ON-SITE SURVEY & DEMO
Arrange a on-site survey and demonstration
The next step is to contact our sales team who are all trained on the Eco City Sweeper and they will arrange a mutually convenient time for a demonstration on your site and application area you would like to test it on. 
Call 01403 273 444 to speak to one of our sales team 
LEASING & FINANCE OPTIONS
Manage your business through finance and leasing option.
Trafalgar Cleaning Equipment offers flexible leasing options for financing products. Get in touch and we will advise you free of charge and without obligation. We are your reliable partner when it comes to leasing that is individually tailored to suit your needs. 
Good reasons for lease financing:
Invest without using company capital
You do not have to use any capital that you need for your own resources to purchase your new equipment. This gives you more room for manoeuvre in your business.
Earn more by leasing
Generate profit without using company capital. There's no better way to make money. What are you waiting for?
No need to go to your bank
Invest without having to commit to a bank loan. Your securities will remain available for other financing projects*.
Safe and manageable
Lease instalments remain the same for the entire term of the lease. This gives you a clear planning structure.
Call 01403 273 444 to speak to one of our sales team
ON-SITE INSTALLATION & TRAINING
WARRANTY SERVICING & MAITENANCE
THIS MACHINE IS AVAILABLE FOR SHORT TERM or LONG TERM HIRE

 Speak to our experienced sales team today. Call 01403 273 444
BOOK A FREE ON-SITE SURVEY AND MACHINE DEMONSTRATION

 Book a free site survey and demo today. Or Call 01403 273 444