Numatic NSU370 SANITISEPRO High-Pressure Misting Disinfection System
An effective, easy to use misting system ideal for schools, workplaces and hospitality.
Numatic NSU370 SANITISEPRO High-Pressure Misting Disinfection System

99.999% efficiency in inactivating and destroying pathogens.
The Numatic NSU370 Sanitise Pro has been independently tested to destroy 99.999% of pathogens using our High-Pressure Misting Disinfection System .
Sanitise large areas
Dries quickly
Consistent results
99.999% effective in inactivating and destroying pathogens when using complete NSU370 System.
System comprises NSU370 Mist Unit applying TECcare Control Disinfectant Solution
70% of consumers expect more thorough and frequent cleaning
Business recovery relies on keeping people safe. Building trust in cleaning requires consistent and effective disinfection. The simplicity and versatility of the NSU370 allows effective results every time by every user across a wide range of environments.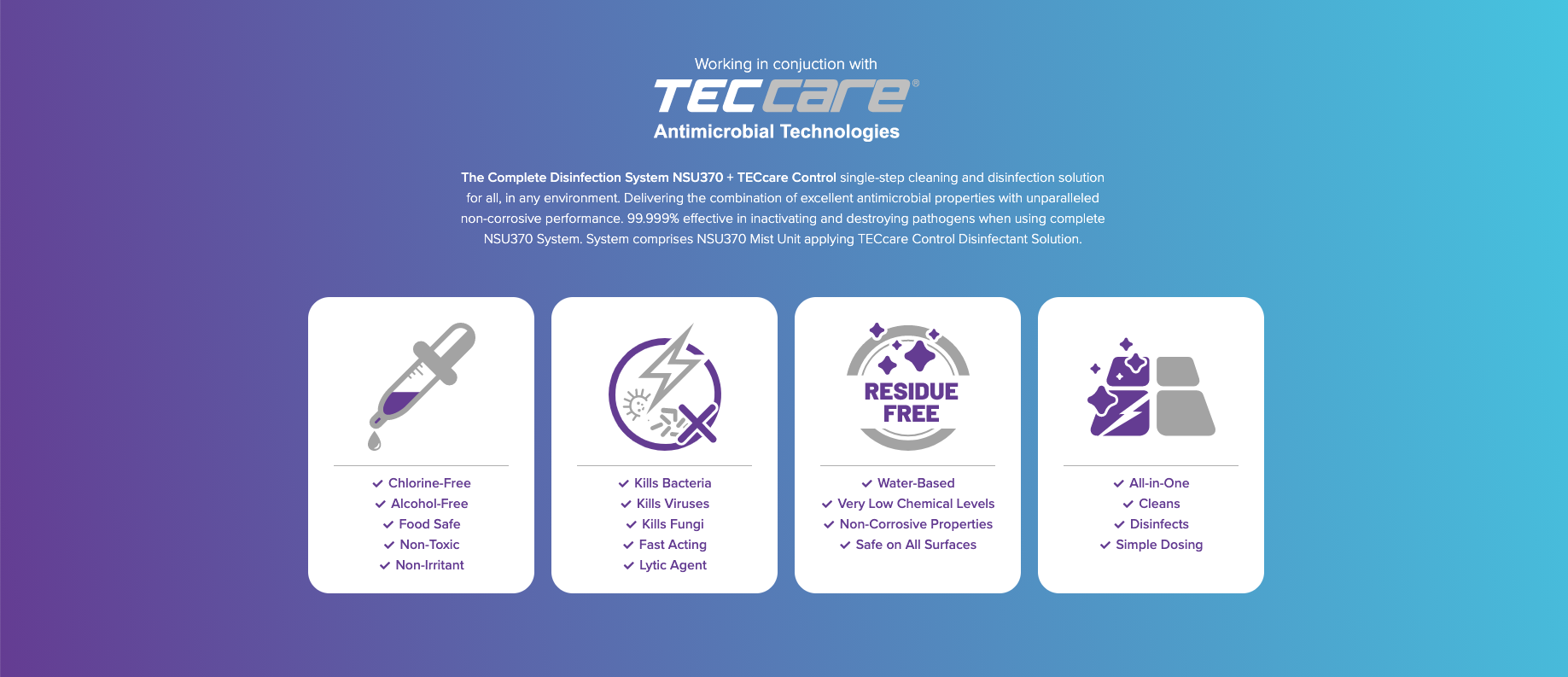 Why Pressure Matters…
Vortex Effect
High-pressure systems create a fine mist of tiny droplets travelling at high speed.
Friction between droplet and surrounding air create small vortices.
Optimised pressure, droplet size, flow rate and disinfectant solution (surface tension + Cationic compounds) support vortices creation.
Advantages
Avoids droplet bounce and displacement of pathogens. Maintain mist density providing a more targeted application.
Enhance coverage on complex shapes and objects and can bend around surfaces.
Simple lower-pressure systems do not typically exhibit these effects.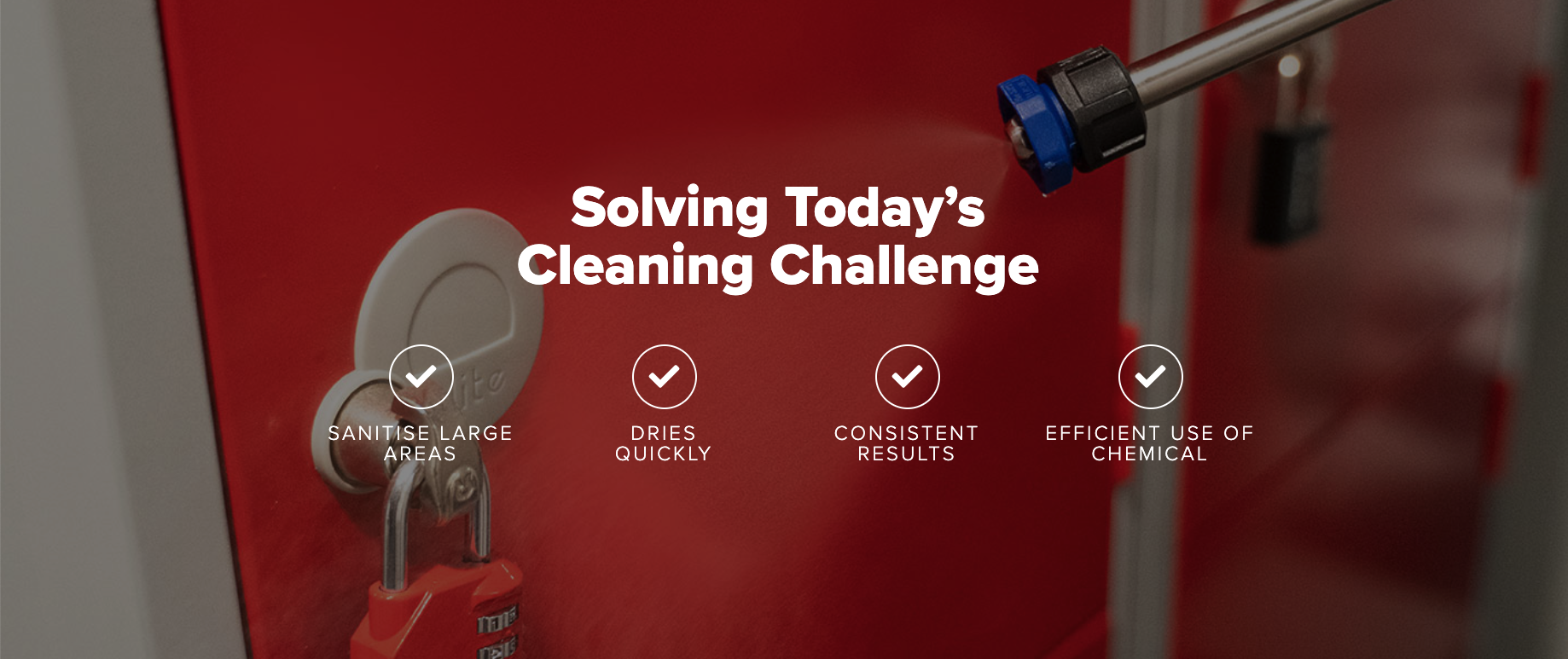 Features and benefits
Pro Features & Specification
Designed and specified for extended professional use by any user across all industries and environments for consistent results and long-life reliability.
Precision Mist
Delivers a quick-drying (under 10mins) droplet, typically 65-75 microns in diameter on to surfaces.
High Power Pump
Powered by high-performance 15bar / 217psi fluid pump designed and engineered for extended use in commercial environments.
Stainless Steel Misting Nozzle
High-performance, long-life stainless steel nozzle delivers consistent fine mist.
Huge 5L Capacity
Convenient and secure internal solution tank. Easy to fill and out of the way during use.
Extra Reach 2.2M Hose
Perfect for staircases, handrails etc. Optional quick connect extension hose available.
High Pressure Vortex
On entering the lower-pressure ambient air the high-pressure creates a vortex effect, reducing particle speed, displacement of pathogens and increasing coverage across surfaces and touchpoints. When used as a system, independent testing shows a Cationic charge to mist droplets increasing the ability to cling to complex surfaces / touchpoints.
Extended Use
All the NSU370 unit's weight is on the floor, allowing for extended use without strain on operator.
Specifications
|   |   |
| --- | --- |
| TANK CAPACITY (L) | 5 |
| WEIGHT (KG) | 7.2 |
| FLOW (ML/MIN) | 150 |
| DROPLET SIZE (MICRONS) | 65-75 |
| CLEANING REACH (M) | 26 |
| HOSE LENGTH (M) | 2.2 |
| CABLE LENGTH – HI-VIS (M) | 10 |
| OPTIMUM SPRAY DISTANCE (CM) | 100 |
| MAX PUMP PRESSURE (BAR / PSI) | 15 / 217 |

FREE UK Mainland Delivery 
on all orders 

Call 01403 273 444
for Expert Advice and Support