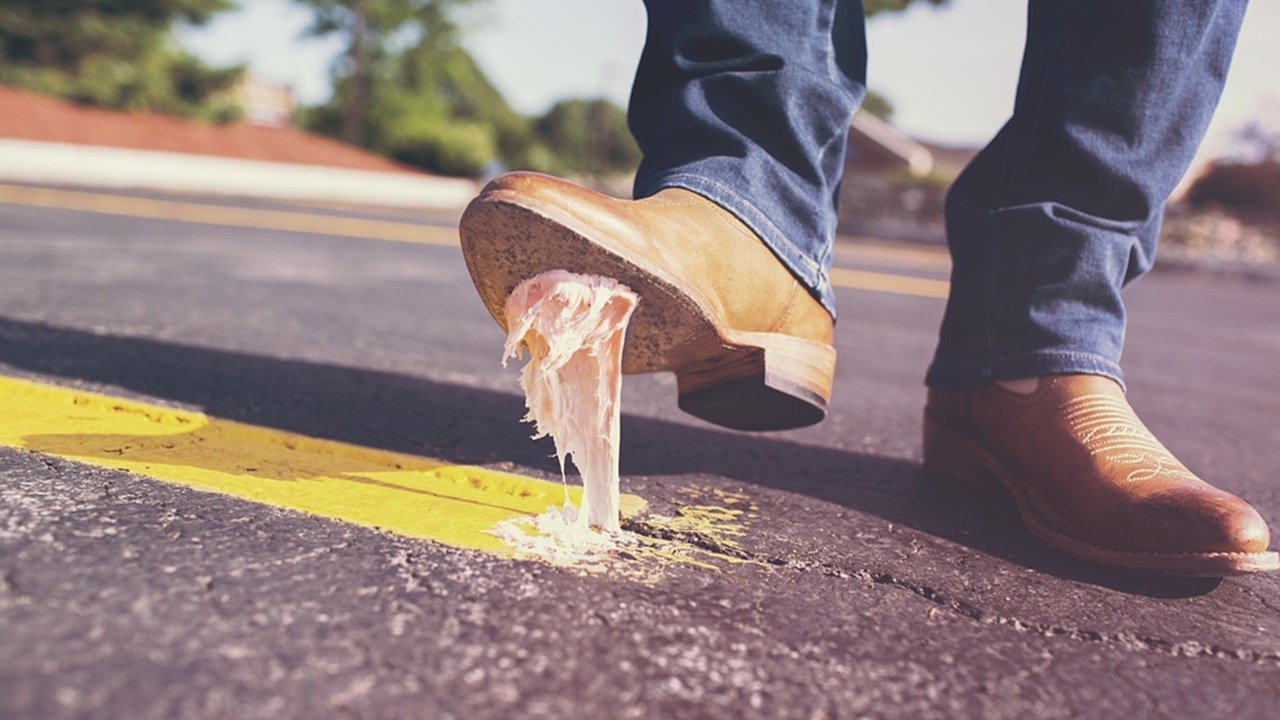 Chewing Gum Removal
When at home, getting that piece of chewing gum off the drive that someone has kindly left for you usually involves a bag of frozen peas (other frozen vegetables are available) being held over the gum for a considerable amount of time in an attempt to freeze it into submission and pop it off the surface of the floor with whatever scraping device you deem suitable. 
When removing chewing gum on a commercial scale; this is not going to be a practical solution. Instead of freezing we do the opposite and apply high heat at low pressure to begin to break down the gum and release it from the floors surface, allowing you to easily wash away and pick off the really ancient, stubborn soiling's. This is the method you should apply if you want to preserve the surface of the floor that is. You could just blast it at high pressure and high temperature but this is only going to destroy grout lines and leave holes; often leading to further costs to repair damaged sidewalks and roads. 
For the most part; Local authorities and facilities management organisations tend to use industrial steam cleaners that reach temperatures of 155 Degrees Celsius. This method still poses its own challenges however! Getting power and water to remote urban areas can be very difficult. So our solutions are self-contained, meaning that you take the power and the water with you; allowing you to get rid of the gum no matter where it is. 
Gum & Graffiti Removal Unit - Single Axel Trailer

This Single Axle unit it designed to clean where neither power nor a water supply is available. The unit is mounted in a galvanised trailer and bodywork to prevent any metal corrosion and inside this bodywork is a plastic baffled water tank allowing significant run times. The front and rear of this unit are hinged to allow easy access for daily operation, routine maintenance and storage facilities, and they are lockable for security.
The steam generator is driven by either a diesel or petrol engine fitted with electric start and easy to use control panel. It can provide cold or hot water, and steam up to 155°C under a variable controlled pressure up to 2950psi (200 Bar). This machine is capable of meeting all your cleaning needs especially in local authorities, agriculture, plant hire and contract cleaning.
Chemical Free Chewing Gum Removal
Variable Pressure
Variable Temperature
Pavement Cleaning at up to 100SqM per hour
Low Water Consumption
Galvanised Trailer
Self-Retracting Hose Reel
Low Noise
A Range of Accessories to complete many different tasks
Trafalgar Self Contained Gum Removal Unit

The GR8000 is a commercial and completely self-contained chewing gum removal system available in either 110v or 240v incorporating an (up to) 8 bar pressure steam boiler with an integral chemical delivery system.
Made from highly durable stainless steel construction the unit features a continuous fill boiler system allowing refill at any time during operation.
Van Mounted Gum & Graffiti Removal Unit

The Trafalgar Van Mount unit is the ideal solution for chewing gum and graffiti removal, street cleaning, and many other industrial cleaning applications. The on-board tools are completely self-contained and 100% mobile. It is the quietest in its class, making it perfect for working in residential areas. Trafalgar Cleaning Equipment has developed a quiet, unobtrusive and low maintenance solution to combat the major problem of discarded chewing gum. Our van mounted units provide a versatile and effective opportunity to deal with troublesome gum and graffiti.
Features
Operated with doors shut, reducing noise to a minimum 
Fully self-contained, fill up with water & diesel and go
Up to 2.5 hours - with the option for continual use
Ergonomically designed storage for ancillary equipment
Up to 90m of high pressure hose
Fully waterproof and sealed to increase the life of the vehicle
Front Compartment (Dry Section)
Whole compartment sprayed with this hard epoxy resin coating to waterproof and protect vehicle from interior rusting and damage.
Fire Extinguisher
Hot Hand Wash
Eye Wash & First Aid Kit
Strip Lighting
Manual Fletner
Vehicle Overload Protection System (This device provides both audio and visual warnings of the vehicles current weight. Not only will it indicate an overall overload, it will also indicate if either axel is overweight.)
18" Rotary Floor Tool (Ideal for flat surface cleaning.)
Compartmented Storage
Chemical Storage Cabinet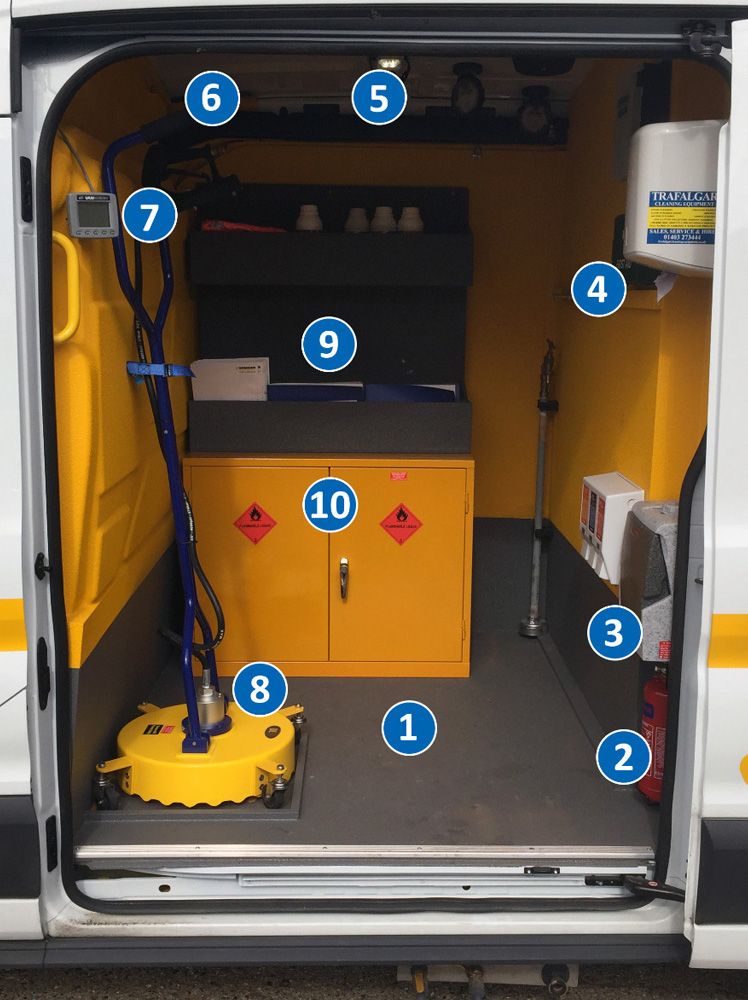 Rear Compartment (Wet Section)
650 Litre Baffled Water Tank (Fitted with ball cock system that prevents overflowing.) 
Karcher HDS 1000 DE Hot Pressure Washer 
30 Metre Retractable Hose Reel (Additional hose can be added, up to an extra 60 metres.) 
Electric Fletner (Comes on automatically with the steam unit to vent away unwanted fumes.) 
Fire Extinguisher 
Flue for Burner Unit 
Drain for Water Tank & Drip tray 
Filling Point for Water Tank 
Flashing Strobe Beacon 
Rear Door Outlet for Hose (This allows the unit to be operated with the door closed, helping reduce noise and increase security.) 
Waterproof Epoxy Resin Coating 
Ventilation for Generator Exhaust 
Water Filter (All water from the unit passes through this.)
Hydrant Filling Adaptor