FIDO Dog Faeces Collection & Disposal Unit Slurry Tank
Trafalgar Cleaning Equipment specialise in manufacturing a range of cleaning equipment to collect dog mess and litter from our streets and parks.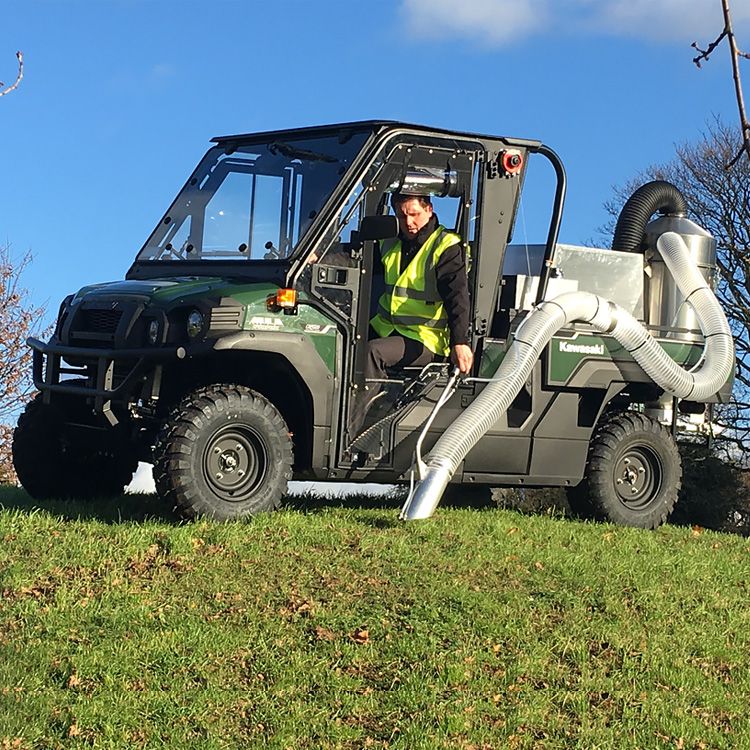 Manufactured on a street legal Kawasaki Mule 4010 utility vehicle, the FIDO can be fitted with a weather break cab, sides and other optional extras tailored to your own unique requirements.
Trafalgar Cleaning Equipment specialise in manufacturing a range of cleaning equipment to collect dog mess and litter from our streets and parks. The FIDO is a specialist unit designed for litter and dog faeces collection which includes glass and other sharp objects along with general faeces, waste, and litter.
The FIDO is manufactured on a Kawasaki Mule 4010 street legal utility vehicle which can be fitted with a weather break cab and sides along with other optional extras that can be tailored to your own unique requirements.
The FIDO has been designed for both on-road and off-road use with low pressure ground tyres.
With its low pressure ground tyres, it can mount kerbs with ease without damaging wheel rims or pavements, and is ideal for travelling across grassed areas and streets collecting dog faeces and litter without damaging the grass. Being street legal not only enables easy transportation between parks, it also allows removal of dog faeces from paths, grass verges and streets along the way.
The collection unit contains its own engine which drives a powerful vacuum unit capable of collecting 100 litres of all types of dog faeces into the tank, it is then mixed with chemicals to form a slurry which makes it easy and hygenic to dispose of.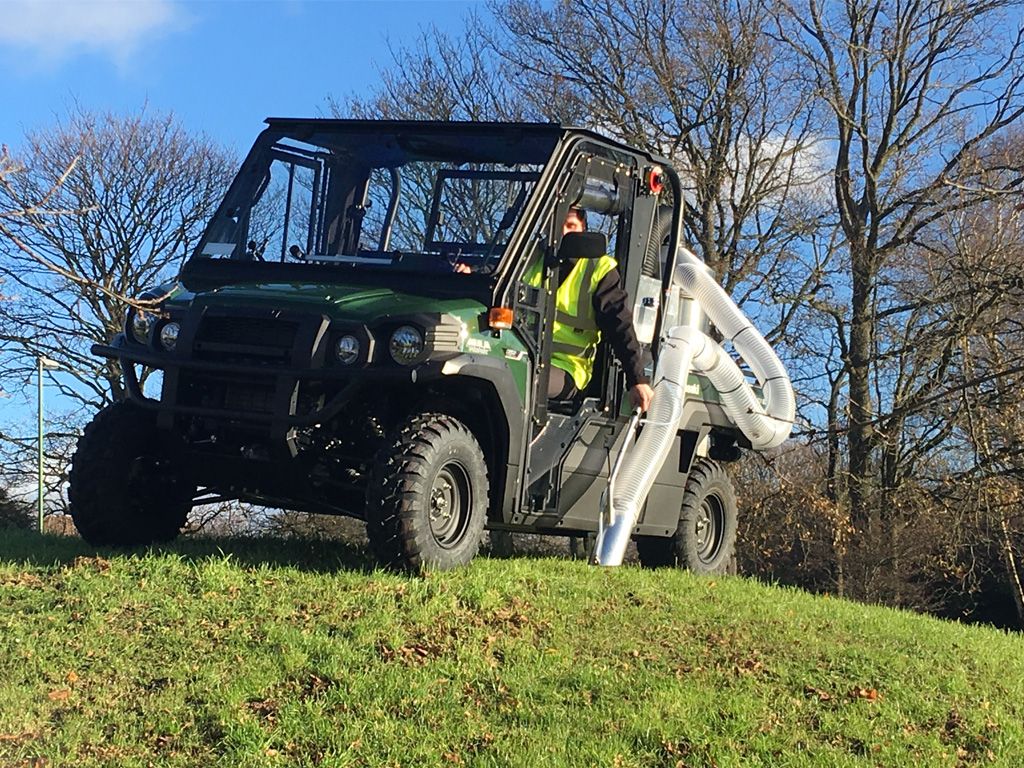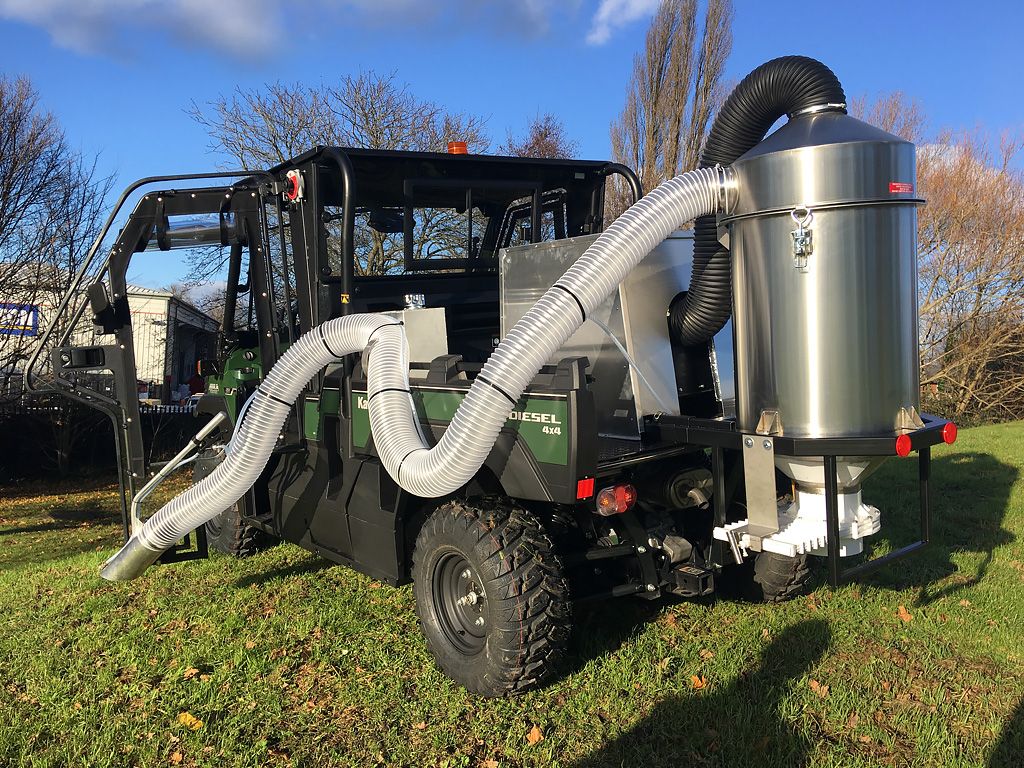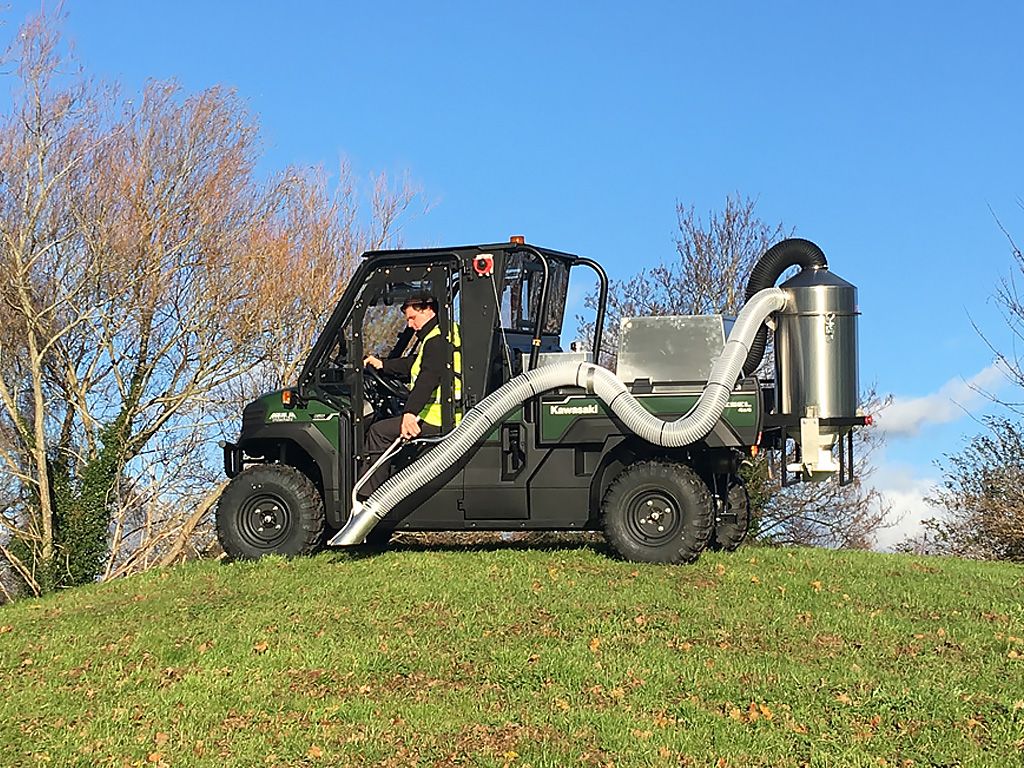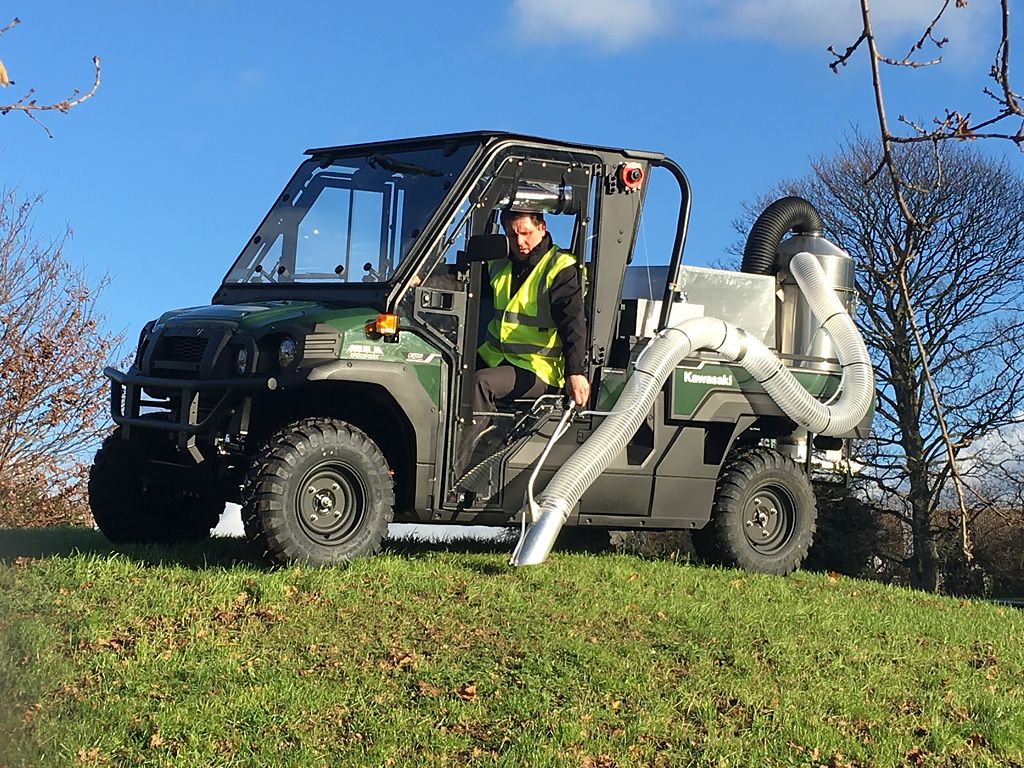 The hygienic solution to dog faeces removal
A disinfectant spray pump is also fitted to the pick up tool to not only to ease removal of stubborn faeces, but also to wash and disinfect the offending areas helping to protect children from toxcara canis. The unit can also be used for collecting litter by changing the stainless steel slurry tank for a wheelie bin.
The FIDO unit which is fitted to the back of the unit can actually be modified to fit most ATV's, if you already own an ATV, we can fit our bespoke equipment to it.
Features & Benefits
Litter & Faeces Collector
Collects Glass &  Sharp Objects
Road Legal
Turf Friendly
One Person Operation
Two Seats
Collection Both Sides
Reversing Alarm
Low Maintenance
 
Bespoke FIDO Solutions - Case Study
The FIDO unit can be fitted and installed onto most utility vehicles creating a bespoke unit for the customers unique requirements. We build and manufacture our machines in our own workshop using our own skilled engineers and fabricators making bespoke solutions for our customers.
We recently took an order from a customer who didn't require the standard Kawasaki utility vehicle we normally use for our FIDO units, instead the customer had already purchased a John Deer utility vehicle and asked Trafalgar to fit the FIDO with the slurry tank to the vehicle. 
Call 01403 273 444 and arrange a free demonstration
Discover more
MACHINE TECHNICAL SPECIFICATIONS
| | | |
| --- | --- | --- |
| Engine | Air cooled | 4 stroke engine |
| Displacement | cm³ | vehicle 401cc/ vac |
| Carburettor | - | diaphragm type |
| Ignition system | - | electronic |
| Waste capacity | Ltr | 100 |
| Vac/hose diameter option | mm | 125/100 |
| Max speed | Mph | 20 |
| HAV | Vibration level  | 1.7 m/s² |
WHAT NEXT? ARRANGE A FREE ON-SITE SURVEY & DEMO
Arrange a on-site survey and demonstration
The next step is to contact our sales team who will arrange a mutually convenient time for a demonstration on your site and application area you would like to test it on. 
Call 01403 273 444 to speak to one of our sales team 
FINANCE & LEASING OPTIONS ON THIS MACHINE
Manage your business through finance and leasing option
Trafalgar Cleaning Equipment offers flexible leasing options for financing products. Get in touch and we will advise you free of charge and without obligation. We are your reliable partner when it comes to leasing that is individually tailored to suit your needs. 
Good reasons for lease financing:
Invest without using company capital
You do not have to use any capital that you need for your own resources to purchase your new equipment. This gives you more room for manoeuvre in your business.
Earn more by leasing
Generate profit without using company capital. There's no better way to make money. What are you waiting for?
No need to go to your bank
Invest without having to commit to a bank loan. Your securities will remain available for other financing projects*.
Safe and manageable
Lease instalments remain the same for the entire term of the lease. This gives you a clear planning structure.
Call 01403 273 444 to speak to one of our sales team
WARRANTY SERVICING & MAITENANCE
All of the machines we sell come with a warranty, please ask your salesman for more details. We also offer service contracts on all of the machines we sell, please discuss this with your salesman at the time of purchase for more details and prices. Maintenance of your machine will be imperative to the machines longevity in service, so regular maintenance and servicing of your machine is always recommended.
ON-SITE INSTALLATION & TRAINING
All of the machines we sell are pre-assembled, tested, and pre-run by our engineers before leaving the workshop for dispatch or delivery by your salesman. We do this so that when you receive your machine it is ready to go. Some of our machines do require onsite training and this will be explained and arranged if required at the time of sale by your salesman who will provide you with the required training to operate your new machine.


THIS MACHINE IS AVAILABLE FOR SHORT TERM or LONG TERM HIRE

 Speak to our experienced sales team today. Call 01403 273 444
BOOK A FREE ON-SITE SURVEY AND MACHINE DEMONSTRATION

 Book a free site survey and demo today. Or Call 01403 273 444