ECO CITY SWEEPER 2 Pedestrian Road Sweeper
The new Eco City Sweeper 2 is a Battery Powered Compact and Silent Pedestrian Sweeper - A Game Changer in Sweeping that will put an 'Electric Smile' on your operator's face!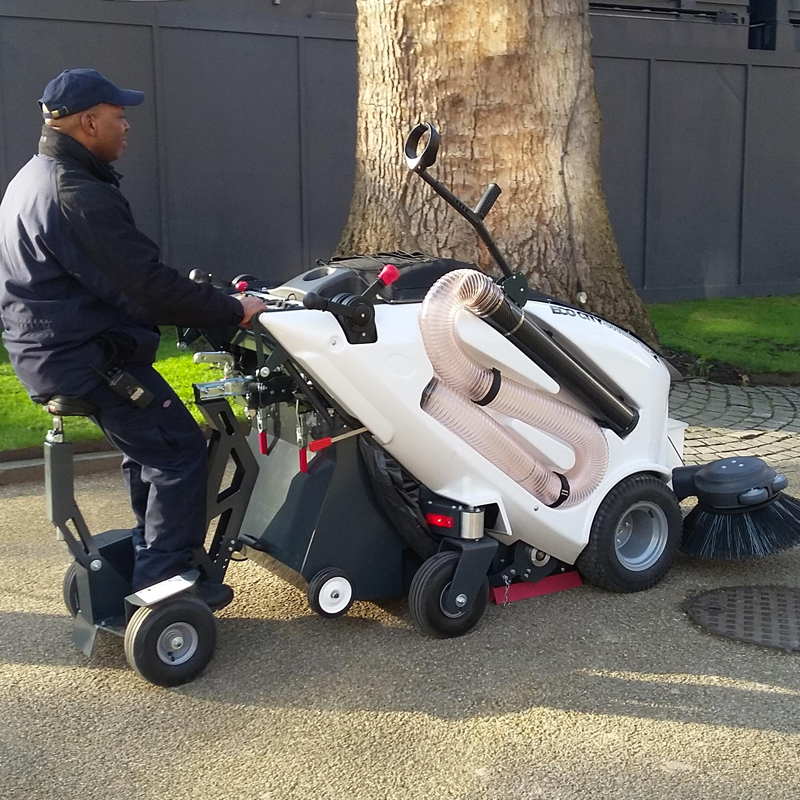 Battery Powered Compact and Silent Pedestrian Sweeper
Call 01403 273 444 for a FREE DEMO today
SKU ECS2
Trafalgar Cleaning Equipment Ltd launches a new game changing machine aimed at industry, FM companies, local authorities, arenas, stadiums and hospitals to name a few.
The new battery powered compact and silent pedestrian sweeper is a 'Game Changer' in Pedestrian and Street Sweeping that is guaranteed to put an 'Electric Smile' on your operator's face!
The ECS2 represents a new concept and era in street and pedestrian sweeping
The Eco City Sweeper 2, is manoeuvrable and much quieter than the traditional urban machines, and represents a new concept of street and pedestrian cleaning machine particularly suitable for cleaning private and public spaces, including sidewalks, pedestrian areas and historical centres.
The Eco City Sweeper 2 is defined as a "mechanical" sweeper because it collects waste by the central brush in a 135 LT bin and at the same time is a "suction" sweeper also thanks to its powerful filtering system able to guarantee total filtration PM10 fine dust, even in the absence of water, freeing clean air in the environment during all the time of use.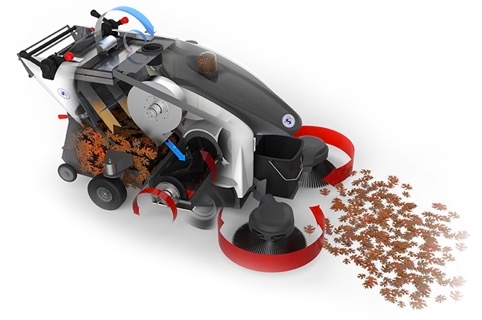 Being 100% Battery Powered makes the Eco City Sweeper 2 the Environmentally Greener option with Zero Emissions!
The Eco City Sweeper 2 is also incredibly versatile because it can be used both as a walk behind model, as with the operator on board, with the addition of the chariot, offering the possibility to drive for long distances.
It is also equipped with a wander suction hose for vacuuming bulky waste, reaching narrow spaces, such as flower beds, side benches, etc.
Increased all-round machine longevity through new battery technology allowing longer working hours and less time recharging!
The Eco City Sweeper 2 has been designed with the intention of offering a long working autonomy that exceeds the daily shift before having to recharge the batteries.
Its compactness, effectiveness and ease of use, thanks to the possibility of driving by inexperienced people without a driving license, make the Eco City Sweeper 2 Zero Emissions street sweeper unbeatable in cleaning city centres, pedestrian areas, cycle paths, parks and public gardens.
Call 01403 273 444 and arrange a free demonstration
Discover more 
MACHINE TECHNICAL SPECIFICATIONS
Vacuum type
 
Dry
Hopper capacity 
 
240 L
Vacuum motor 
 
1500 W
Driving type
 
Hydrostatic
Supply battery
 
24V
Maximum power 
 
2700 W
Working time 
 
> 8 H 
Vacuum motor 
 
1500 W
Filter 
 
Polyester cartridge
Filtering surface 
 
14 M2
Nebulizer 
 
Yes
Filter cleaning on board 
 
Optional
Twin front wheels 
 
Yes - standard
Maximum slope 
 
20%
Steering range 
 
2600 mm
Noise level 
 
55 dB (A)
Max battery capacity 
 
(DIN) 320 A (Wet)
Battery compartment (LxWxH) 
 
71,6 x 41 x 49 cm
Weight with batteries 
 
665 Kg
Dimensions (LxWxH)
 
192 x 98 x 182 cm
Packaging (LxWxH) 
 
200 x 110 x 185 cm
 
GALLARY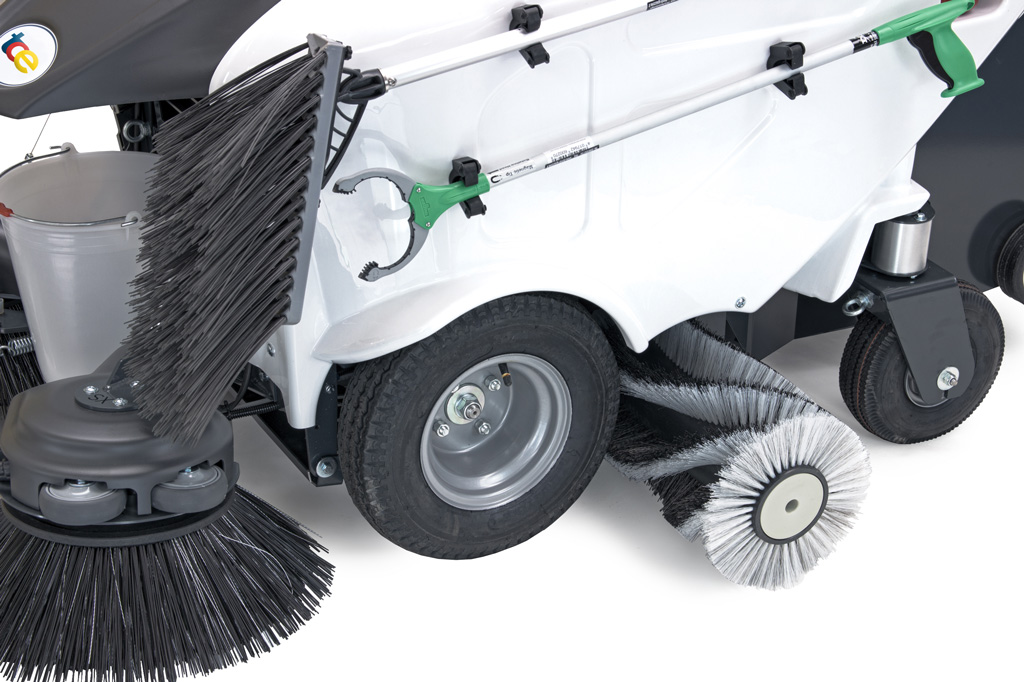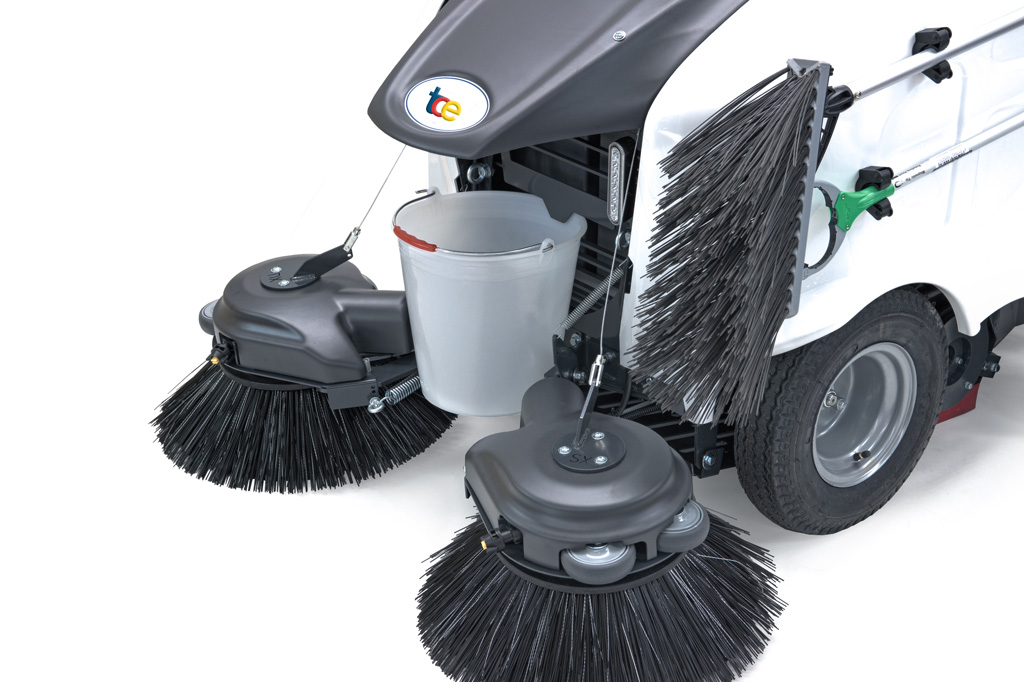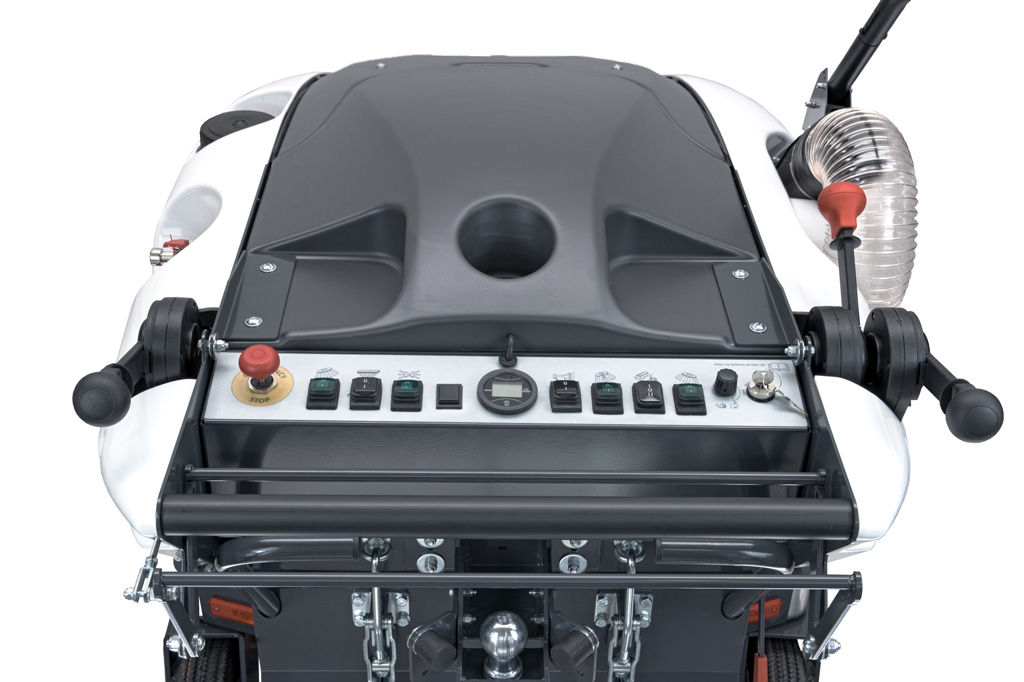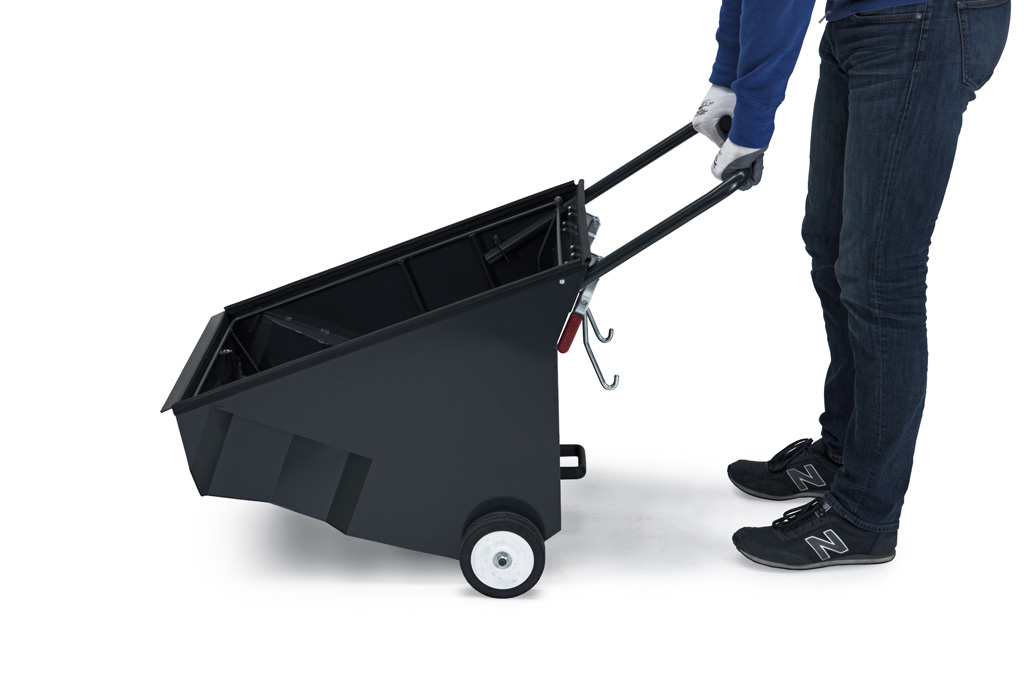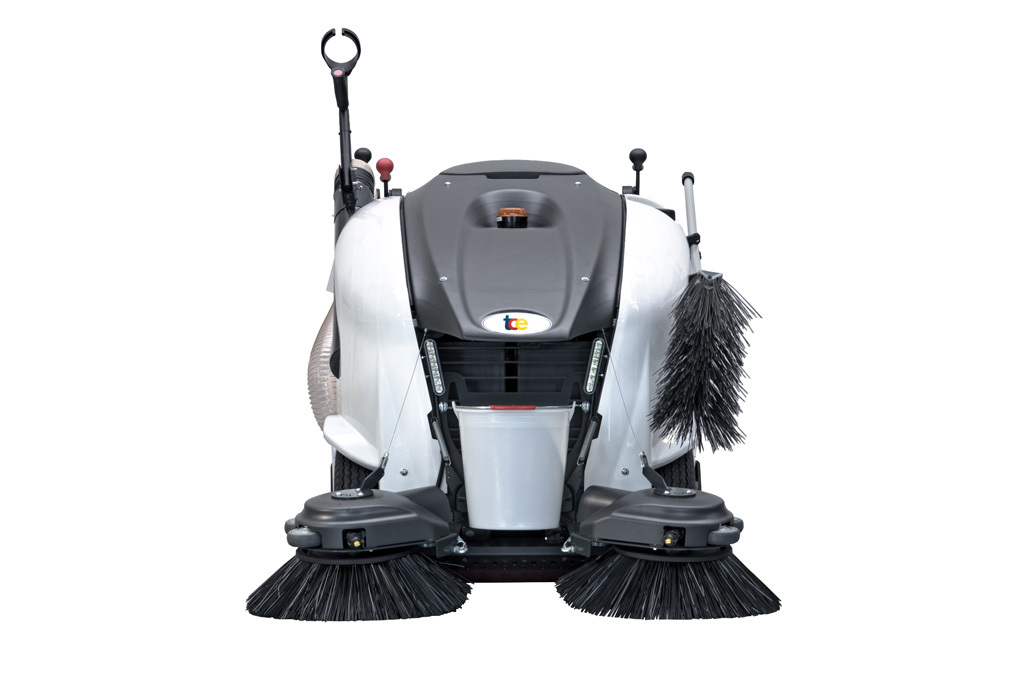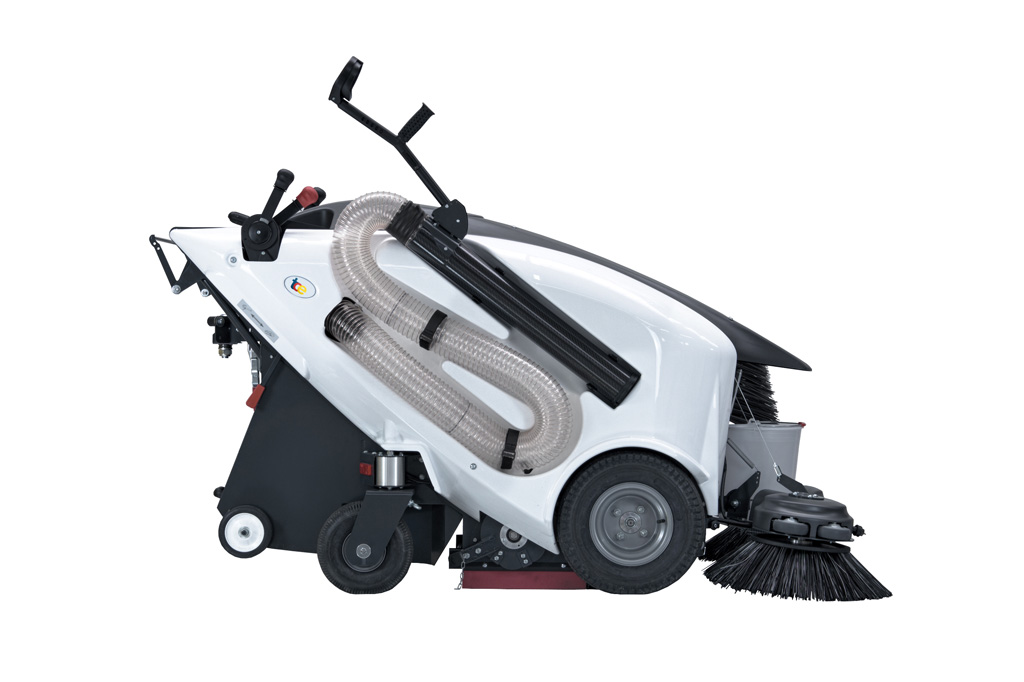 WHAT NEXT? ARRANGE A FREE ON-SITE SURVEY & DEMO
Arrange a on-site survey and demonstration
The next step is to contact our sales team who will arrange a mutually convenient time for a demonstration on your site and application area you would like to test it on. 
Call 01403 273 444 to speak to one of our sales team 
FINANCE & LEASING OPTIONS ON THIS MACHINE
Manage your business through finance and leasing option.
Trafalgar Cleaning Equipment offers flexible leasing options for financing products. Get in touch and we will advise you free of charge and without obligation. We are your reliable partner when it comes to leasing that is individually tailored to suit your needs. 
Good reasons for lease financing:
Invest without using company capital
You do not have to use any capital that you need for your own resources to purchase your new equipment. This gives you more room for manoeuvre in your business.
Earn more by leasing
Generate profit without using company capital. There's no better way to make money. What are you waiting for?
No need to go to your bank
Invest without having to commit to a bank loan. Your securities will remain available for other financing projects*.
Safe and manageable
Lease instalments remain the same for the entire term of the lease. This gives you a clear planning structure.
Call 01403 273 444 to speak to one of our sales team
WARRANTY SERVICING & MAITENANCE
All of the machines we sell come with a warranty, please ask your salesman for more details. We also offer service contracts on all of the machines we sell, please discuss this with your salesman at the time of purchase for more details and prices. Maintenance of your machine will be imperative to the machines longevity in service, so regular maintenance and servicing of your machine is always recommended.
ON-SITE INSTALLATION & TRAINING
All of the machines we sell are pre-assembled, tested, and pre-run by our engineers before leaving the workshop for dispatch or delivery by your salesman. We do this so that when you receive your machine it is ready to go. Some of our machines do require onsite training and this will be explained and arranged if required at the time of sale by your salesman who will provide you with the required training to operate your new machine.


THIS MACHINE IS AVAILABLE FOR SHORT TERM or LONG TERM HIRE

 Speak to our experienced sales team today. Call 01403 273 444
BOOK A FREE ON-SITE SURVEY AND MACHINE DEMONSTRATION

 Book a free site survey and demo today. Or Call 01403 273 444