Eco City Follow.Me Cordless Leaf Blower Vacuum  
Finally after a long wait we are pleased to launch the Eco City Picker FOLLOW.ME. The next generation in pedestrian street vacuum collection.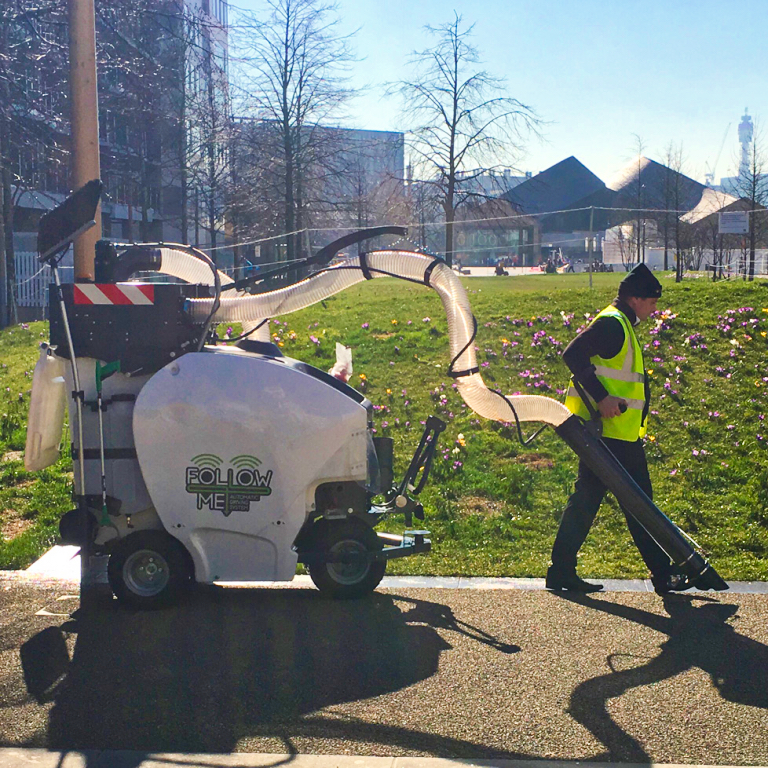 The Best Battery Cordless Leaf Blower Vacuum for Inner City Areas
100% Battery Powered Compact Leaf & Litter Pedestrian Vacuum Picker Collector
Call 01403 273 444 for a FREE DEMO today
SKU ECP
This is the next generation in pedestrian street vacuum collection.
The Eco City Picker Follow.Me with its patented operator recognition system will simply follow the operator automatically where ever he or she goes. Simply hold the vacuum wand to suck up the debris.
Finally after a long wait we are pleased to launch the Eco City Picker FOLLOW.ME 
This next generation battery powered self propelled leaf and litter vacuum collector is ready to take on the other established machines in the market. 
FOLLOW ME FOLLOW YOU!
The Eco City Picker Follow.Me is the most ergonomic unit in its class. It cuts down on operator fatigue and will increase productivity. With a 10 hour runtime and an overnight charge the Eco City Picker Follow.Me is always ready for action.
SAFETY FIRST
Worried about safety, don't be. The patented recognition on the Eco City Picker Follow.Me takes into consideration its surroundings, get to far ahead of the unit and it will stop dead.
If someone or something gets in between the operator and the unit it stops dead. Get to close to a parked car or wall and the unit stops dead.
100% BATTERY POWERED MAKES IT THE ECO OPTION
The Eco City Picker Follow.Me can be fitted with long lasting lead acid batteries or lighter more flexible lithium iron cells. This makes the unit ideal for modern city centres and campuses.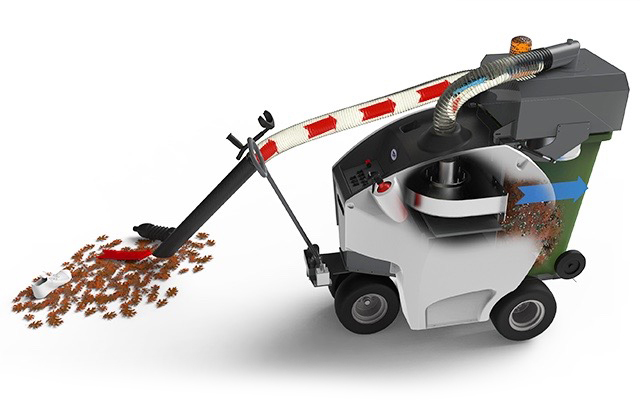 EARN MONEY FROM YOUR ECO CITY PICKER THROUGH ADDITIONAL ADVERTISING INCOME STREAMS!
With the option of a programmable water proof TV screen mounted to the rear of the machine it is now possible to display advertising champagnes for local companies. Now your Eco City Picker can also generate an income for itself.
Call 01403 273 444 and arrange a free demonstration
Discover more
MACHINE TECHNICAL SPECIFICATIONS
Supply Battery 24 V
Driving type Autonomous driven
Dimensions (LxWxH) 1920x980x1825 mm
Packaging (LxWxH) 2000x1100x1900 mm
Maximum speed 6 km/h
Maximum slope 20 %
Filtering surface 14 m2
Filter type Polyester cartridge
Traction Electric
Noise level 68 db(A)
Steering range 2600 mm
Working time >10 h
Max battery capacity (DIN) 320(Wet)/250(Gel) Ah/s
Battery charger 24V - 40A
Batteries compartment (LxWxH) 716x410x490 mm
Vacuum hose length 4100 mm
Vacuum hose Ø 120 mm
Total power 2700 W
Working light Optional
Double nebulisers yes
Twin front wheels yes
Hopper capacity 240 l
Weight without batteries 325 kg
WHAT NEXT? ARRANGE A FREE ON-SITE SURVEY & DEMO
Arrange a on-site survey and demonstration
The next step is to contact our sales team who will arrange a mutually convenient time for a demonstration on your site and application area you would like to test it on. 
Call 01403 273 444 to speak to one of our sales team
FINANCE & LEASING OPTIONS ON THIS MACHINE
Manage your business through finance and leasing option
Trafalgar Cleaning Equipment offers flexible leasing options for financing products. Get in touch and we will advise you free of charge and without obligation. We are your reliable partner when it comes to leasing that is individually tailored to suit your needs. 
Good reasons for lease financing:
Invest without using company capital
You do not have to use any capital that you need for your own resources to purchase your new equipment. This gives you more room for manoeuvre in your business.
Earn more by leasing
Generate profit without using company capital. There's no better way to make money. What are you waiting for?
No need to go to your bank
Invest without having to commit to a bank loan. Your securities will remain available for other financing projects*.
Safe and manageable
Lease instalments remain the same for the entire term of the lease. This gives you a clear planning structure.
Call 01403 273 444 to speak to one of our sales team
WARRANTY SERVICING & MAITENANCE
All of the machines we sell come with a warranty, please ask your salesman for more details. We also offer service contracts on all of the machines we sell, please discuss this with your salesman at the time of purchase for more details and prices. Maintenance of your machine will be imperative to the machines longevity in service, so regular maintenance and servicing of your machine is always recommended.
ON-SITE INSTALLATION & TRAINING
All of the machines we sell are pre-assembled, tested, and pre-run by our engineers before leaving the workshop for dispatch or delivery by your salesman. We do this so that when you receive your machine it is ready to go. Some of our machines do require onsite training and this will be explained and arranged if required at the time of sale by your salesman who will provide you with the required training to operate your new machine.


THIS MACHINE IS AVAILABLE FOR SHORT TERM or LONG TERM HIRE
 Speak to our experienced sales team today. Call 01403 273 444
BOOK A FREE ON-SITE SURVEY AND MACHINE DEMONSTRATION

 Book a free site survey and demo today. Or Call 01403 273 444