BATTERY RAM Leaf & Litter Vacuum Collector
The TCE Battery Ram is a self propelled battery powered leaf and litter collector designed for people that can't use fuel, have noise issues or both. Suitable for all types of applications and industry sectors

BATTERY RAM Self Propelled Battery Driven Leaf Vacuum & Litter Collector
£4,999.00 (excl VAT)
SKU BATTERYRAM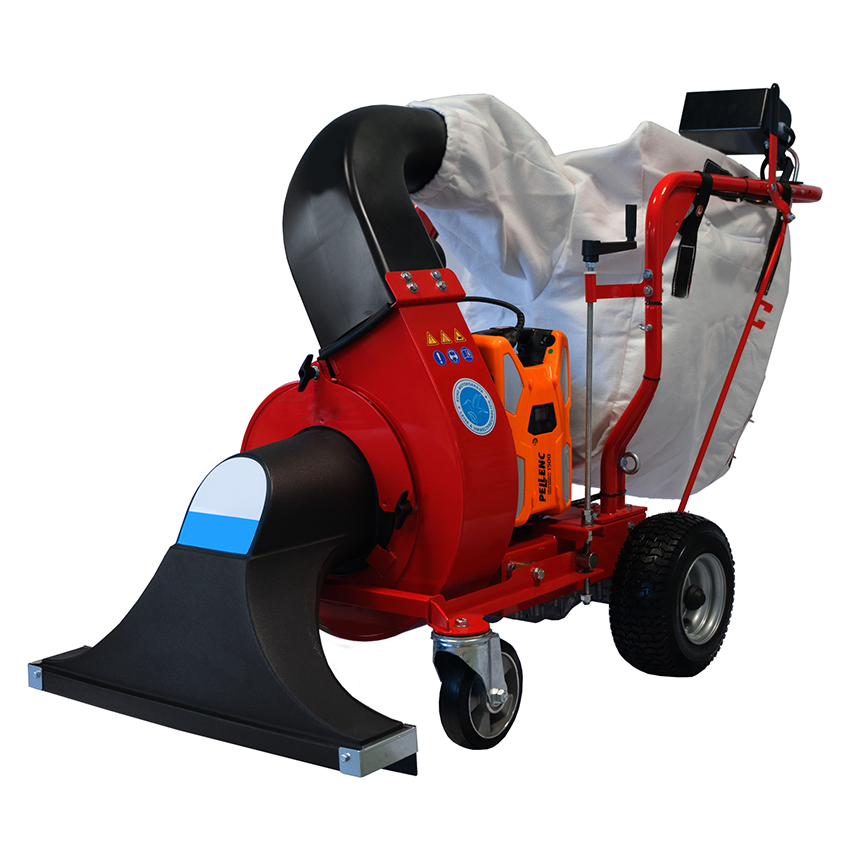 The BATTERY RAM Self Propelled Battery Driven Leaf Vacuum & Litter Collector
The Battery Ram is our vacuum cleaner for leaves and waste with battery drive powered by Pellenc. Thanks to the environmentally friendly, emission-free battery drive, the leaf and waste vacuum cleaner can also be used without any problems indoors or wherever petrol-driven devices are prohibited. Thanks to the battery, the Battery Ram is very quiet and ideal for noise-sensitive areas, e.g. in front of schools, hospitals, railway stations and shopping centers. The 7-speed gearbox ensures optimum speed control while working. Only 76.5 dbA sound pressure level at the operator's ear. Therefore no hearing protection is necessary.
Electric Enginec
Powered by Pellenc 1500 ULIB Battery
Low noise and no emissions
Perfect for noise sensitv areas
Only 70,4 dB(A) Sound pressure level
No hear protection needed
Zero emissons
Call 01403 273 444 and arrange a free demonstration
Being battery powered there are also no fumes which is a big advantage for anyone trying to reduce their carbon footprint.
The batteries power a heavy duty motor that in turn spins a steel impeller that creates enough suction to pick up large objects such as glass bottles. As objects pass through the impeller they are also mulched which in turn helps get much more debris into the bag.
Available with an optional wander hose kit for getting smaller debris such as 'stub-ends' out of hard to reach areas this is a very versatile machine. Also there is substantially less maintenance and servicing to be carried out as there is no traditional combustion engine.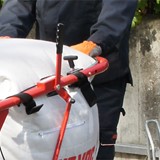 7-Gear Drive System
The six forward speeds of the vacuum cleaners allow the speed to be perfectly adapted to the working situation at all times. The reverse gear is particularly useful as it allows you to clean areas that do not allow turning.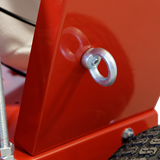 lashing eyes
The standard lashing eyes allow a secure load securing during the transport.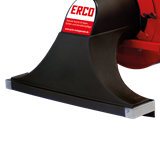 Edge protectors
The professional and robust building of the machine, allows the cleaning direct at walls. The edge protectors prevents damages.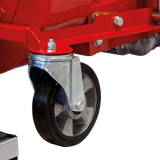 Wear-free wheels
The two new special elastic solid rubber wheels with aluminium rims can even cope with larger kerbstones without damage. The narrow design of the wheels ensures excellent manoeuvrability of the vacuum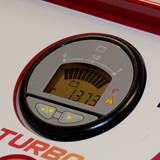 Display
All you need to do is look at the illuminated information display to read the battery capacity, speed and operating hours. The suction power regulator and the "TURBO" button are located directly below.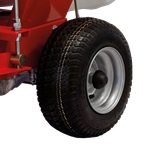 Big wheels
The big rear wheels with ball bearing provide an excellent traction.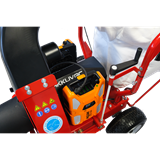 Quick-change battery system
A total of two rechargeable batteries can be attached to the device, which can be changed using a quick-change system.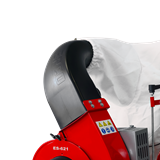 Robust plastic ejection elbow
The robust plastic ejection elbow ensures a significant reduction in noise.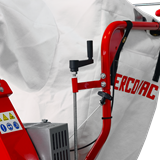 Infinitely variable suction height adjustment
The suction height can be easily and conveniently adjusted via the crank handle.
MACHINE TECHNICAL SPECIFICATIONS
| | |
| --- | --- |
| Engine | infinitely variable 48V electric Engine |
| Battery running time | 75 minutes with Pellenc 1500 ULIB |
| Drive System | 7-Gear Transmission incl. reverse gear |
| Weight | 95 kg excl. battery |
| max. Air Volume | 3.270 m³/h |
| Thorn-protected wheels | ● |
| Output | 1,5 kW |
| Display | Operating hours, Battery capacity, Engine Speed and mainantance intervall |
| Security | electronic monitoring of all electrical systems and the battery |
| Battery Technology | 2 x Pellenc 1500 ULIB |
| Input for loading | 230V |
| Ø Suction Hose | 14 cm (optional) |
| Length suction hose | 3 m (optional) |
| Drive speed | 4 km/h |
| Vibration | 0,2 (m/s²) |
| Sound pressure level | 70 dB(A) |
| Sound power level | 88 dB(A) |
ACCESSORIES
Side-brush for the right side
Dry Collection Bag with toggle Closings
Dry Collection Bag with Zipper
Bag for wet conditions with toggle Closings
Bag for wet conditions with zipper
Noise protection: Version very low noise
WHAT NEXT? ARRANGE A FREE ON-SITE SURVEY & DEMO
Arrange a on-site survey and demonstration
The next step is to contact our sales team who will arrange a mutually convenient time for a demonstration on your site and application area you would like to test it on. 
Call 01403 273 444 to speak to one of our sales team
FINANCE & LEASING OPTIONS ON THIS MACHINE
Manage your business through finance and leasing option
Trafalgar Cleaning Equipment offers flexible leasing options for financing products. Get in touch and we will advise you free of charge and without obligation. We are your reliable partner when it comes to leasing that is individually tailored to suit your needs. 
Good reasons for lease financing:
Invest without using company capital
You do not have to use any capital that you need for your own resources to purchase your new equipment. This gives you more room for manoeuvre in your business.
Earn more by leasing
Generate profit without using company capital. There's no better way to make money. What are you waiting for?
No need to go to your bank
Invest without having to commit to a bank loan. Your securities will remain available for other financing projects*.
Safe and manageable
Lease instalments remain the same for the entire term of the lease. This gives you a clear planning structure.
Call 01403 273 444 to speak to one of our sales team
WARRANTY SERVICING & MAITENANCE
All of the machines we sell come with a warranty, please ask your salesman for more details. We also offer service contracts on all of the machines we sell, please discuss this with your salesman at the time of purchase for more details and prices. Maintenance of your machine will be imperative to the machines longevity in service, so regular maintenance and servicing of your machine is always recommended.
ON-SITE INSTALLATION & TRAINING
All of the machines we sell are pre-assembled, tested, and pre-run by our engineers before leaving the workshop for dispatch or delivery by your salesman. We do this so that when you receive your machine it is ready to go. Some of our machines do require onsite training and this will be explained and arranged if required at the time of sale by your salesman who will provide you with the required training to operate your new machine.

THIS MACHINE IS AVAILABLE FOR SHORT TERM or LONG TERM HIRE

 Speak to our experienced sales team today. Call 01403 273 444
BOOK A FREE ON-SITE SURVEY AND MACHINE DEMONSTRATION

 Book a free site survey and demo today. Or Call 01403 273 444